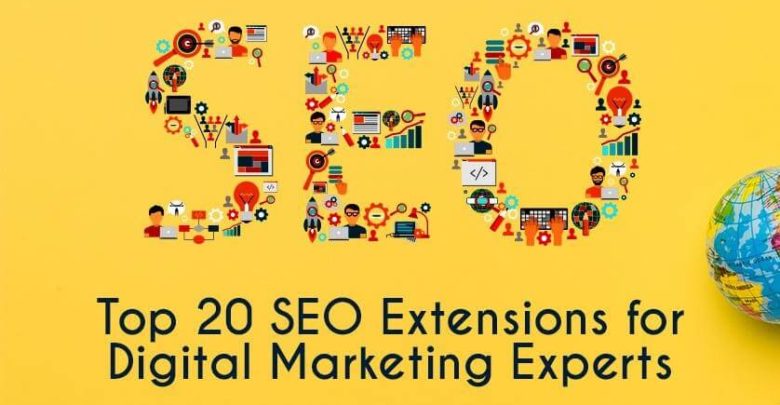 Digital marketing cannot survive without Search Engine Optimization (SEO). Digital marketers need the assistance of a lot of SEO tools to understand their customers better and to make their brand more visible online. This article will, therefore, enlist the top 20 SEO extensions that you can have on your browser.
Read this article previously I explained: 15 Best Browser Extensions or Addons for SEO
SEO Extensions for Digital Marketing Experts
We will look at the SEO benefits of these SEO tools and why you should have them in your browser extension.
MozBar, to find out the popularity of your competitors
When you activate MozBar in your Google Chrome extension you get the following benefits.
You can see the page authority and domain authority of any given web page.
Highlighting specific link types on demand (internal, external, followed, etc.)
You get a quick SEO site overview of any page.
Once you log in with a Moz community account, that is free, MozBar begins to analyze websites and SERPs.
You can look at the on-site content, social media engagement, technical SEO and backlinks for any page you want.
You can do website audits or find out the specifics about competition with the help of MozBar.
Know About Moz's Link Explorer, Its Working and Recent Updates
Is MOZ Open Site Explorer (OSE) Gone?
Link: Mozbar chrome extension
SEOquake
SEOquake is a chrome extension by SEMrush. Some of its benefits are:
You can do an on-page SEO audit.
SEOquake shows a range of SEO metrics like Alexa rank, Google position, Facebook likes, onsite optimization, etc.
Importantly, features like SEObar provide an instant snapshot of any web page you're browsing that gives you the ability to conduct a low-key competitive analysis.
You can do keyword analysis that provides a structured report of all keywords found on a page.
Link: SEOquake chrome extension
Link: SeoQuake SEO extension for Firefox
SEO Minion
This tool provides top-notch SEO analysis. You can do below things:
Analyze on page SEO
SERP preview tool
Hrefland Checker
You can check the status of links
Google search location simulator
Link: SEO Minion chrome extension
Link: SEO Minion Firefox addon
Keywords Everywhere
With this tool, you can save your precious time on keyword research and get your rankings quicker. This tool helps you to,
Check out the cost per click for any given keyword across many websites.
You can view your Google keyword search volume.
You need not spend time searching and copying data from different sites.
Download your metrics as a PDF or Excel document for easy sharing and record keeping.
Websites that support Keywords Everywhere are:
Google Search
YouTube
Google Trends
Google Keyword Planner
Majestic
Google Analytics
Amazon
Answer the public
Moz OSE (Open Site Explorer)
Link: Keywords Everywhere Chrome Extension
Link: Keywords Everywhere Firefox Addon
Google Tag Assistant
Tag Assistant shows webmasters if their Google tags are working properly without the need to trifle with your code.
Tag Assistant will do the following functions,
Look at Google Analytics, Ads remarketing, Conversion tracking, Google Tag Manager, and Doubleclick Floodlight
Tag Assistant can identify missing or broken tags.
This tool makes SEO and Ads audits easier and ensures that tags are properly working.
Link: Google Tag Assistant Chrome Extension
SEO Toolbar by Ahrefs
This is a popular SEO suite. With this tool, you can find basic information such as,
Backlinks and referring domains
Ahrefs URL rating and domain rating
Social shares from the main networks
The same info for the root domain
Link: Ahrefs SEO Toolbar Chrome Extension
Link: Ahrefs SEO Toolbar Firefox Addon
Majestic SEO Tool Bar
This tool has some of the essential features of an SEO toolbar.
With this tool, you can see the below statistics:
Number of links
Number of root domains
Trust flow and citation flow
Link profile chart
Link: Majestic SEO Tool Bar Chrome Extension
Link: Majestic SEO Tool Bar Firefox Addon
BuzzSumo Extension
With this tool, you can do below measurements: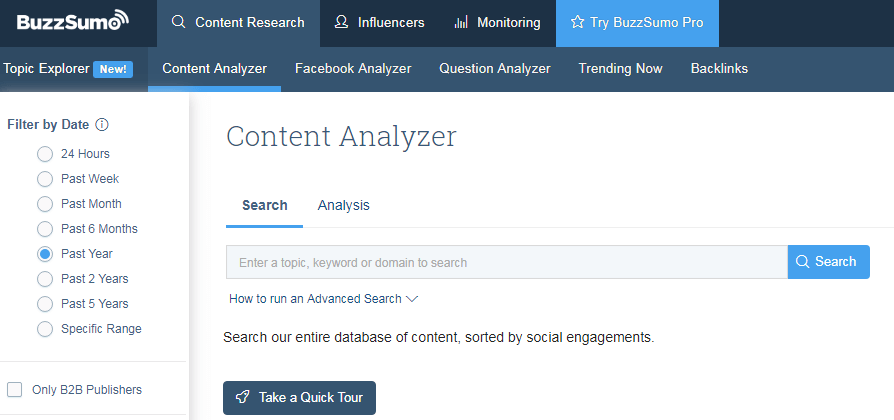 Search for the most popular/shared content online for any given topic
It provides insight into how a particular content piece is performing without leaving your web browser.
Moreover, you see the engagement metrics of the content and the backlinks it has generated online.
With BuzzSumo, you can see how your competitors' content is performing and create content that is more shareable.
Link: BuzzSumo Extension For Chrome
Link: BuzzSumo Extension For Firefox
Mangools SEO Extension
Mangools extension will prove helpful in the following ways,
It shows you the overall SEO metric.
It shows you backlinks to the page.
You can do on page SEO.
It shows you page speed.
It allows you to see all outbound links on a page and status code for the same.
You have the rank tracking feature.
Link: Mangools SEO Extension For Chrome
Link: Mangools SEO Extension For Firefox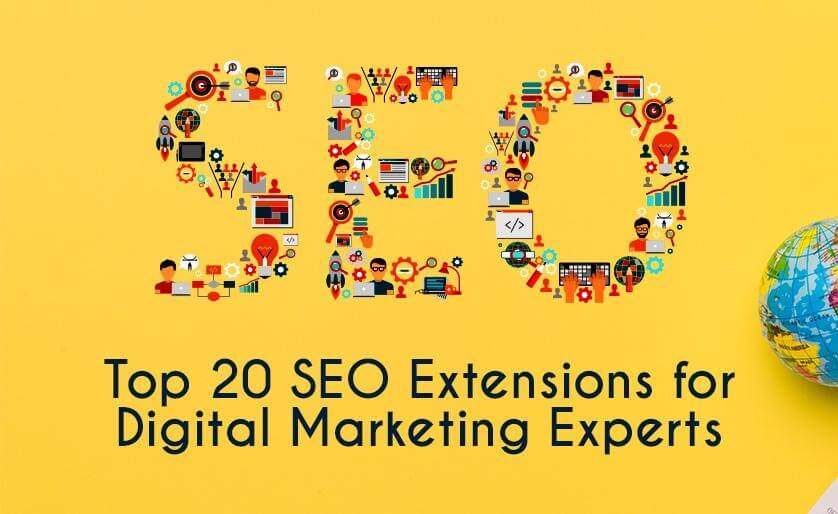 WooRank Addon
WooRank is a popular web service to audit any webpage that you are viewing. You can even find out the technology being used on a web page. Some of the information you will get about the page is,
Title tags and meta information
A mobile-friendly score and previews on different devices
Page load metrics and how easy it is to access content
The plugins and CMS used
Basic social sharing statistics
Traffic level
Link: WooRank Addon For Chrome
Link: WooRank Addon For FireFox
LinkMiner
The most effective way to build backlinks for your site is through broken links. LinkMiner helps you to do this task. LinkMiner gives you the backlink info and social data for any link on a page and export those links from a page onto a CSV file.
Furthermore, with LinkMiner, you can find out how many total or external links are on the webpage you are viewing.
Link: LinkMiner Extension For Chrome
Meta SEO Inspector
With this tool, you can find the meta information of a page. You specifically get information on basic meta tags (title, description, keywords), open graph tags and highlights if any important ones are missing.
Link: Meta SEO Inspector Extension For Chrome
Domain Hunter Plus
With this extension, you can identify broken links. However, the basic purpose of this tool is to find expired domains that already have backlinks and authority.
This tool also shows how many links are pointing to the broken URL and how many links point to the domain. Furthermore, it also shows if the domain is available to register.
Link: Domain Hunter Plus Extension For Chrome
Wappalyzer
With Wappalyzer you can get a lot of information about a website such as,
Widgets being used
Operating system
Special fonts
Web server information
Frameworks
Link: Wappalyzer Extension For Chrome
Link: Wappalyzer Addon For Firefox
Page Load Time
Fast loading pages is a must for search engine rankings and marketing in general. This tool shows how long it took you to load a page in your browser toolbar. You can also see if any redirects are taking too long. This tool helps you to know if you need a content delivery network (CDN) or a faster host.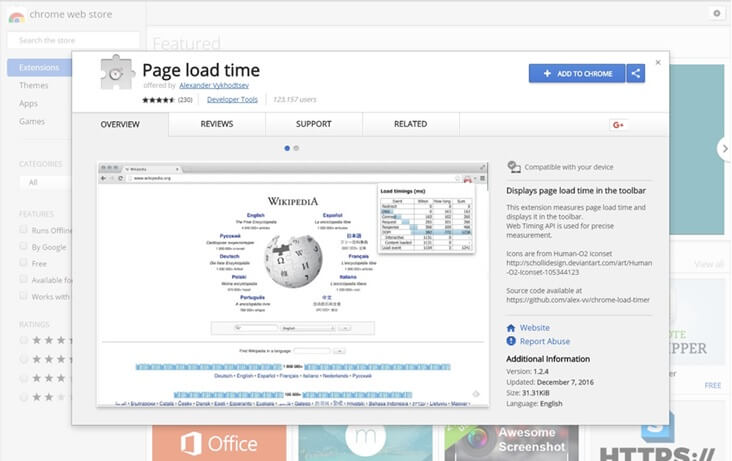 Link: Page Load Time Extension For Chrome
Redirect Path Checker
Redirects are an important part of the internet. This extension will show you all the redirects from the URL you entered to your final URL.
Link: Redirect Path Checker Extension For Chrome
Bit.ly
This tool is the best and popular link shortener service. You can shorten URLs quickly and even track stats such as the number of clicks a link got. Moreover, if you enter an URL to shorten and if somebody has already done it with Bit.ly you can see how many people clicked it in the past.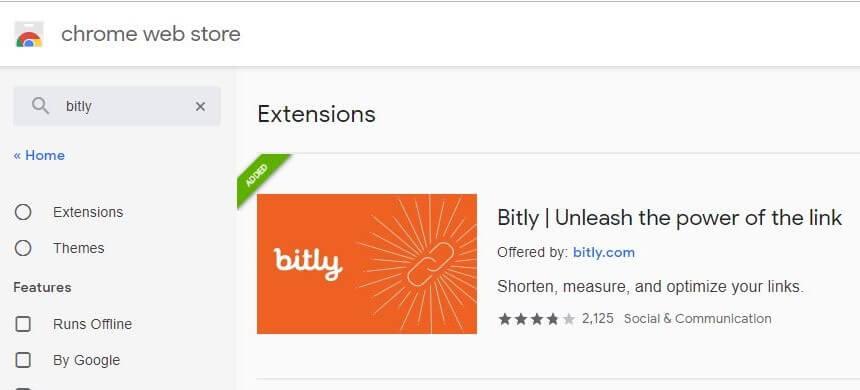 Link: Bitly Extension For Chrome
Link: Bitly Addon For Firefox
ShareMetric
You can use this extension to see how a specific page has performed on social media. You can any page's stats for all major social networks such as Facebook, Twitter, LinkedIn, Reddit, StumbleUpon, and Pinterest. It also shows you some basic SEO stats. Importantly, it also includes both Open Site Explorer and Ahrefs stats for URL and domain rank as well as linking root domains to the page.
Link: ShareMetric Extension For Chrome
SimilarWeb
This tool allows you to study all traffic sources during site analysis. You get deep insights into,
Traffic
Site time
Bounce rates
This tool analyzes the clickstream data from several Internet service providers, client data, and SimilarWeb site crawlers.
Within no time you can see a company's target audience demographics, the money they spent on paid content and the locations from where their web traffic is coming.
Link: SimilarWeb Chrome Extension
Link: SimilarWeb FireFox Addon
User-Agent Switcher for Chrome
User-Agent Switcher for Chrome is another valuable Chrome extension. Mimic user agents to check that your website displays correctly in different browsers or OS.
Read more: USING GOOGLE CHROME FOR IMPROVED TECHNICAL SEO
Conclusion:
The above-mention SEO tools will come in handy for Digital Marketing Experts, SEO Analysts, Content Writers, Digital Marketing Executives and for others in the field of digital marketing.
Author Bio:
Isaac John is a Content Manager at Zuan Education which is an institute that provides top-notch Digital Marketing Training in Chennai. The author's favorite field is Content Marketing and SEO. He believes in the optimization of content that first satisfies the consumers.
Comments
0 comments