A new business today has equal opportunity as like any big-giant in an industry, to emerge on top of the growing competition with help of digital marketing tools and strategies. There are several digital tools that can ramp up your company website and place it in top searches of a search engine. And to make this possible, you need the know-how to make most of digital tools and utilize these in tandem with other marketing efforts and creative plans.
Read more: Top 20 SEO Extensions for Digital Marketing Experts
Here is a list of 10 digital tools for marketing, communication and many other purposes that you can use to spearhead your new and small business to heights.
Top 10 digital tools for marketing and communication
1. HubSpot
How about an all-in-one software solution for your company's marketing needs? We are talking about HubSpot, where you can access several marketing channels together and thereby optimize for a greater traffic, better return on investment, and conversion rate. You can run multiple marketing campaigns here on varied marketing channels and make improvements to these, when needed.
The tool also comes with customized templates perfected to create landing pages. HubSpot also has facility for live chat and other action events for users that pump up engagement, making room for a greater conversion, from visitors to customers. The complete version of this tool is expensive on pocket, but small businesses with lower budgets can sign up for a basic or free package.
Read more: USING GOOGLE CHROME FOR IMPROVED TECHNICAL SEO
Some of the other features on this platform are:
Email templates
Customized landing pages
Analytics
Content optimization tools
Lead management
Marketing automation
2. Google Analytics
Google Analytics gives valuable insights regarding number of visitors on your website. It is free software, helpful in identifying site traffic or problems with it, so that you can optimize your website according to the results. It works the best with Google Search Console, which also provides information about website traffic and key concerns with the same.
With Google Analytics, you can gain information about:
Time spent by users on your website and the pages they visit.
Keywords visitors use in Google to get to the website or page.
Numbers of visitors that visit the site by week, month, day, or a time period you choose.
Place from where the visitors come, such as other website, ads, direct, social, organic search, etc.
The interest and demographics of users visiting the site.
For instance own a fintech firm providing funds to companies, then certain important keywords like company loan, business loan, enterprise loan, etc need to be used on web pages. Now the Google Analytics keyword data will help you understand the keywords you can use to optimize web pages.
Another example being, as per the data of Google Analytics, probably your website is getting more traffic from Twitter than Facebook, then you can concentrate more on Facebook marketing to optimize traffic from this channel.
Read more: 10 Most Important Features of Web Analytics in SEO
3. KWFinder
SEO (Search Engine Optimization) is one of the key fundamentals to get right to promote online marketing. It must be well optimized and structured for both website and mobile. The content on these platforms must contain keywords relevant to what your audience searches for on search engines such as Google, AOL, Bing, Baidu, Yahoo, etc, so that your website can rank better on these.
To know a list of appropriate keywords which would add value to your website and help it rank better on search engines, you can use a keyword research tool. Since a small business may be bootstrapped, an affordable tool such as KWfinder can come to assistance. It is much cheaper in price than Google Keyword Planner, SECockpit, and likes.
KWfinder also has more number of functionalities compared to free tools. You can insert a seed keyword, and the tool will throw up hundreds of keyword suggestions as per trends, data, search volume, ranking difficulty score for every phrase/word, etc.
4. Mailchimp
Email marketing is a crucial strategy to grow a new business. With help of email campaigns, you can reach many people in just a few seconds. Every meaning signup can make a whole lot of difference to your establishment. It can generate a higher return on investment (ROI) and people can connect with your business directly.
One of the best digital tools for the same is Mailchimp, which allows you to capture emails, send out email on a schedule or automatically, manage lists, and analyze engagement with leads and customers. This tool is ideal for a small business. Until you reach 2,000 subscribers, the tool is free to use.
5. Ahrefs
Today, the number of quality links leading to your website/page is of a higher value than backlink quantity. Search engines place a higher importance to backlinks generating from reliable and authoritative websites, making off-page backlinking activity the core of a small business's digital marketing strategy. For a strong off-page backlink and competitor analysis, Ahrefs is one of the best tools.
With this digital tool, you can perform a competitive analysis to know the keywords on which the competitors are ranking for organic search results. You can also access your backlink data immediately, keep a check on mobile and desktop keyword rankings, know best keyword idea, find content valuable for your niche, get alerts when any of your competitors loses or generates a backlink, etc.
Read more: Moz's Link Explorer
6. Hootsuite
Today, having a strong social media presence is necessary to stay in pace with competition. However, managing too many social media accounts at a time can be too time consuming and this is where Hootsuite tool steps in as an assistant for marketing purposes. It is a central management platform for almost all social media channels such as Facebook, Twitter, Pinterest, Linkedin, Instagram, etc.
You can track mentions about your brand and manage responses in this platform. You can even check advanced reporting tools to understand which social media campaigns are working effectively. After analysis, you can calculate ROI, and restructure marketing strategies.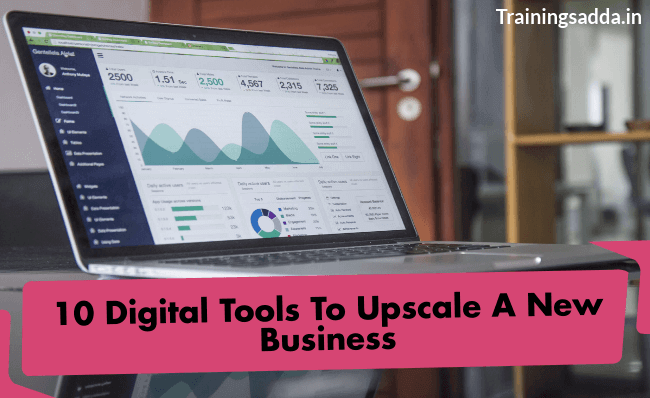 7. Slack
How about a single tool that integrates office management, productivity, project management, sales, developer tools, design, and other key requirements to ease your digital marketing journey? It sounds too good to be true, right? However, impossible is made possible with Slack, which is a collaboration of online services and software tools, simplifying communication between team members to analyze and determine the outcome or a project or a task.
You get benefitted with uninterrupted data sharing, seamless interaction with customers, easy message search options, and a lot more, making team collaborations and digital marketing campaigns a piece of cake.
8. Canva
Along with high-quality content, appealing visuals act like a dash of spices to grab readers' attention. After all, quality photos with quote graphics and colourful graphs do have a carved popularity of own. With Canva, a simplified graphic-designing tool without necessitating you to have any knowledge in the field, you can create engaging infographics, complex photographs, original vectors, and a lot more within a few minutes.
On Canva, you can use the photos features on the website, create brand new ones, or upload your own images. The images can be reworked on without hassles. The platform has easy drag and drop feature with a variety of photo-editing options, font combinations, custom image sizes as per social network and channel requirement, different colour palettes, etc.
Read more: Visual Content Marketing
9. Crazy Egg
What if a tool could help you understand what works and what does not for your business website? Would not that be amazing? Well, here is Crazy Egg, capable of suggesting website changes for generating better results and basic IT help to get you started. The tool has features for drawing website analysis, reporting, targeting and personalization, platforms and integrations, heatmaps and mouse recording, research and user feedback, amongst plethora of other choices.
It acknowledges what website visitors like and do not like. This way, you can maximize your digital marketing efforts to drive leads and sales, without having to manually spend hours analyzing your business website and fixing issues in the same.
10. BuzzSumo
When researching on topics to write on, you may narrow down onto ones having the ability to engage your target audience the most and trending on social media channels at the moment. But, how do you for sure that the selected topic meets these criteria? Here is where BuzzSumo helps. It shows trending content across social media according to searched topics.
You can even analyze the results to get ideas about the topics to write about and what makes these unique. Also, BuzzSumo allows you to know which content pieces on your down are performing the best. It gives a statistics on who is sharing the content and linking to it.
Read more: Social Media When You Want To Gain Positive Traffic To Your Site
In Conclusion
For a small business to thrive in a competitive digital marketing sphere, being social media-savvy, creative regarding content, practical with email marketing, ace in management and communications, are a must. These characteristics will help the company to have a unique quotient of own as well as develop strong and result-oriented SEO and digital marketing strategies, needed to tap the right opportunities at the right time, and get the most out of these.
Comments
0 comments