Digital Marketing
How Zero Budget Branding Works on Social Media
Zero Budget Branding on Social Media is A Real Thing
Zero budget branding on social media is a real thing. And when it's executed properly, it can lead to a lot of effective brand promotion. Of the kind that sends new customers banging your virtual doors down! For startups, in particular, this approach is a surefire way of getting the word out on their products & services. Instantly, and without having to spend much (or any) currency in the process. In the U.S, ISPs like Comcast first used it to publicize service offers like Xfinity Double Play Plans and FiOS. Fast forward to 2018, and every major company seems to be cashing in on this marketing trend.
And why wouldn't they? When the opportunity to save thousands of dollars in advertising budget is present. As Marlon Brando's character in the Godfather series once put it, this is an 'offer you can't refuse!'
Not if you're a reasonable business player – in any sense of the word.
First Things First
But first of all, you need to understand that zero budget marketing doesn't always mean going 0 on the piggy. Although this can be the case if you totally play your cards right. Something for which you may need to consult a specialist (who, of course, will need a fee payment).
What you're hoping for is to leverage the promotional power of social media to the full.
Based on many studies, it is now widely known that social media apps like:
Facebook,
Twitter
WhatsApp
Snapchat
Collectively host over 3 billion users. This huge figure roughly equates to over one-third of the current human population on earth.
Now the appeal of social media for businesses stems from considering these people as potential customers. 'Like sitting ducks all ripe for the shoot', as a certain digital media expert recently put it.
In the U.S, in particular, as well as a host of developing markets, mostly everyone is on social media. Making it almost seem suicidal (to its marketing efforts) when a business actively ignores it. This category of commercial organizations, unsurprisingly, is a fast declining minority.
How Zero Budget Branding Practically Rolls Out
On a day to day basis, zero budget branding is not too difficult to roll out. Commonly, many startups who choose this mode of advertising follow five major strategies. These, very simply put, go as follows:
Hiring Influencers for Digital Promotions
Taking Advantage of Popular Online Forums/Groups
Encouraging Users to Share Site Links and Ads
Choosing the Right Social Media Platform
Engaging in Guest Blogging
Know more: How To Increase Revenue Through Digital Marketing?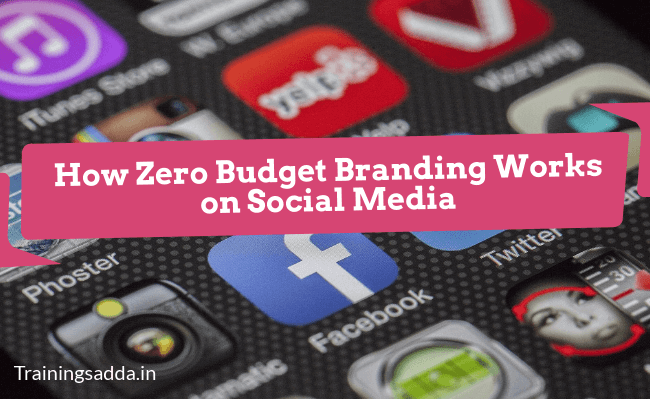 Hiring Influencers for Digital Promotions
These days, every industry niche comes with its own set of influencers. These are the people whose voice carries weight in their realm. And the ones whose opinions are considered authoritative by their followers.
If you're a cookie production startup, then it makes a lot of sense to contact influencers for your own promotions. The bloggers, vloggers, podcasters and op-ed writers who are the 'Kings' and 'Queens' of the field.
You don't have to pay them any money for collaboration. You can just as easily give them free product & service samples. In exchange, they can do a review on their own online channels to give your brand a loud shout out. This is a great way to increase your own brand follower count.
Normally, social media influencers also maintain their own websites. These platforms are frequented by search engine crawlers on an hourly basis. So from the pure SEO perspective, your own website rankings can receive a big boost by gaining backlinks from them.
Taking Advantage of Popular Forums
The internet is home to several popular forums and groups that allow free ad postings. Additionally, these channels have huge fan followings. Or 'potential customers', as you should start to consider them.
A mainstay of social media marketing is to publish new product/service ads regularly on them. This process doesn't cost a penny, only your investment of time. And it comes with the promise of a large number of lead conversions as well as a brand fanfare.
Nothing, in other words, for you to lose. But everything to gain!
Encouraging Users to Share Site Links and Ads
One of the best ways to do this is to launch quiz competitions and contests on your own social media accounts. Through them, you can provide your followers with sharing incentives. I'm sure that you've come across such posts in our own Facebook and Instagram newsfeeds. You know – the ones that invite you to answer in the comments field, and then share the post on your wall.
Learn more: How Social Media To Increase Business Revenue
This is a clever and longstanding promotional technique.
Choosing the Right Social Media Channels
In a nutshell, Facebook is more suited to brand promotions concerned with apparel, electronic gadgetry, and the like. Similarly, LinkedIn is the preferred medium for selling B2B software applications and tools. Instagram & Snapchat, likewise, are ideal for brands with a lot of multimedia promotions to carry out. Think art galleries and digital media houses.
Choosing the right channel can prove key to gaining hold of the right set of customers.
Guest blogging is an SEO go-to route these days. Its primary benefit comes in the form of the website links that you gain as a result. Plus, you can write comprehensive (but catchy) articles for third-party site publishing. This informational pieces greatly help you in getting the word out – and for free!
At this point, a recent business case comes to mind. A certain ISP vendor recently tried to pass on its increased showtime channels on xfinity to its existing subscribers. And to avoid any scenarios of customer protest, the company made subtle use of guest blogging. In a manner that cleverly sought to convince subscribers that they still had the advantage. Because of the added service features that they were scoring.
Comments
0 comments