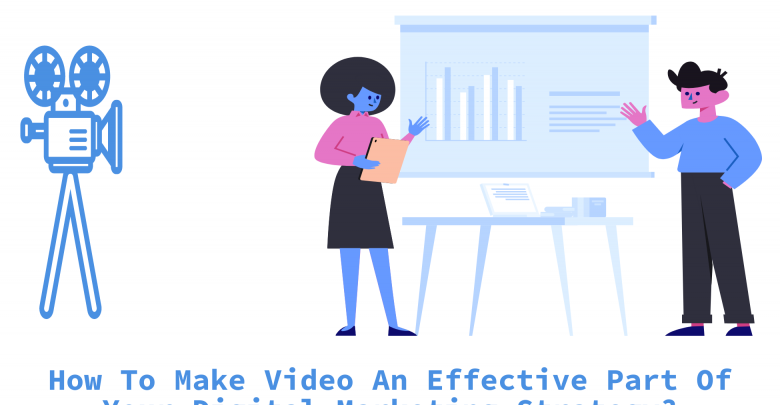 Are you keen to up your marketing game through incorporation of videos? With technology taking the world by storm, brands around the globe are resorting to digital marketing to popularise their products and services on a wider level. On the verge of becoming outdated, image-based content is slowly losing its relevance in the digital marketing scene. The credit for such changing trends goes to booming video consumption which has risen by 121% in recent times.
Businesses looking to stand out from the stringent competition should rework their approach to adapt to the changing scenario. Furthermore, brands must integrate videos into their marketing strategy to effectively reach out to audiences in different parts of the world. What's great about video marketing is that it can increase traffic to your website, thus boosting your brand's online visibility.
Know more: Best and effective ways to increase your following
Marketing videos can go a long way in turbocharging revenue as they possess the power to influence buyer decisions. Since most audiences have short attention spans, there is no point in making long videos that highlight your entire product line. However, you need not worry in case you ever end up making a long marketing video. You can always employ a free online video trimmer to shorten the length of your digital marketing videos in minutes.
Here is a rundown of the top 4 steps you should implement to make videos an integral part of your marketing strategy.
4 Steps To Follow To Make Videos For Your Digital Marketing Strategy
1. Make videos using a web-based video editor
When it comes to making videos for your digital marketing campaign, you should rely on a web-based video editor to produce fruitful results faster. Unlike heavy video editing tools, online editors don't take up any amount of space on your system.
With an online video editor at your service, marketing video production becomes a child's play. For a smooth and seamless beginning, you can make the selection from a massive pool of more than 5000+ video marketing templates.
Once you are done with template selection, you can dig deep into the editor's media library and select footage that resonates with your marketing plan. Depending on your brand's requirements, you can either add a compelling soundtrack to your video or an explanatory narration.
You can further personalise your videos by pepping them up with stylish texts. Consider including the unique logo of your brand as well as it will help you capture the attention of people instantly.
2. Share your videos on all leading social media websites
Used by millions of people across the world, social media is by far the best place to spread the word about your business. Sharing marketing videos on social media is a sure-shot way to increase engagement on prominent platforms like Instagram, Facebook and Twitter. Apart from garnering millions of views, quality video content can generate plenty of social media shares in a short timespan.
Know more: How Social Media Advertising Is Important For Business Growth?
Marketing videos are perfect for brand storytelling as they allow businesses to connect with online audiences on a deeper level. You should always back your videos with an emotion-evoking narrative to win the hearts of your social media fans. Instead of focusing on going viral online, your campaign should be aimed at delivering content that makes it easier for customers to understand your products.
By strengthening your presence on social media sites, video marketing gradually shapes your brand identity and gets you ready for the fierce competition ahead. You can deploy social media analytics tools to study the online behaviour of your customers and competitors. Analytical insights will enable you to tailor your social media video marketing strategy effectively.
3. Optimise your marketing videos for search engine optimization
Search engines like Google and Yahoo love SEO-optimised video content. This is why you must get serious about optimization of your marketing videos. Make sure you include keywords in the title as well as the description of the video for ranking well on internet search pages.
Don't forget to add a catchy transcript if you are keen to get your video content indexed on popular search engines. Before publishing the video, ensure that the transcript is free of grammatical errors which may drive away potential customers.
It is guaranteed that SEO-optimised videos will pave the way for more online shares, which will in turn help you get a higher number of backlinks.
4. Limit the duration of your videos
It is high time emerging brands realise that the demand for short videos is rising rapidly. While long-form videos have purposes of their own, they don't attract attention as effectively as short clips. Digital marketing videos perform well when they are brief and to the point. If you are striving to gain online exposure, short videos can instantly supercharge the efficiency of your marketing campaign.
Compared to long-form videos, short videos have a better click-through rate. For achieving high engagement levels, it is crucial that you keep your marketing videos concise and crisp. Avoid including outlandish plotlines in your videos as they may weaken the impact of your marketing endeavours. Moreover, consider leveraging a web-based video trimmer to cut out boring and unwanted parts from your videos.
Know more: 16 Tips to Make Amazing YouTube Videos
Takeaway:
It is evident that competition is soaring among digital marketers nowadays. Brands who want to gain a competitive advantage in the industry need to upgrade their marketing strategy right away. Surprising as it may seem, videos can drive more traffic than written content that has been professionally optimised for SEO. If you want your business to rank higher in search results, you will never find a better marketing tool than videos.
The proper implementation of digital video marketing can bump up conversion rates and increase brand sales to a great extent. Since video marketing is pretty straightforward, you can get started without any prior experience. Best of all, you will not have to break your bank to make awesome marketing videos as the internet boasts a huge range of editing tools that can come in handy for the same.
Keep in mind that your choice of video editing tool will be a major determinant of your brand's success in the long run. So, ensure you employ the best tech stack to create engaging videos that prompt your viewers to explore your brand offerings.
Comments
0 comments