Digital Marketing
How To Use Digital Marketing To Stay Up in The Market?
Some Effective and Tried Digital Marketing Strategies
Business requires promotions for its growth. Promotion involves reaching out to targeted audience, communicating the existence of business to the maximum possible customers and conveying them to buy the product or avail the services. Television, radio, hoardings, newspaper ads are some of the traditional methods for business promotion.
But today, the increase in use of the Internet and social media has evolved new and more effective techniques for branding and business development. Digital marketing is one of the most effective tool for business growth.
Before diving into the article to know how digital marketing helps in staying up in the market, let us know first what a digital market is?
Digital marketing is all about advertisement and promotion of brand using digital medium on the Internet. Digital media includes social media, television websites etc. Basically, any type of marketing which is done electronically comes under digital marketing.
Here are some effective and tried digital marketing strategies that help in staying one step ahead of the market.
Some Effective and Tried Digital Marketing Strategies
Make initial digital marketing plannings
Before implementing any strategy, it is must to know the answers of several questions. You must know who is your targeted audience (including age, gender, interests, shopping preferences etc.), what is your ultimate goal, etc.?
Knowing answers to the mentioned questions help you in creating buyers persona. And it will help you in approaching customers in a better and more personalized way. So, before implementing digital marketing strategies, know everything about the customers.
Use Email Marketing
Email is considered one of the best and simplest ways to stay connected with the customers. You can send meaningful updates, products promotions and offers, ask for customer reviews or remind customers about their left items in shopping cart etc.
Send personalized mails starting with a name.
Keep the subject length around 70 characters.
Keep the timings in mind.
Grab the power of Social media
Social media is the most powerful tool that boosts your digital marketing efforts. It has the ability to pinpoint targeted customers. Marketers can reach up to them in a very short span of time. They just need to create social media images and post them over different related social media platforms.
For better engagement and results, you need to be very careful while choosing social media platforms out of many. For example, if the audience is professional, LinkedIn works best for you, if they are millennials, Twitter and if you are offering products like jewelry and clothes, Instagram and Facebook works best.
Know more: http://www.trainingsadda.in/snap-to-post-automatically-to-instagram-from-wordpress/
Here are some suggestions that will help in boosting engagements:
Host a contest.
Go live on Instagram or Facebook and create story series.
Create a Poll your followers.
Cross promote the brand with complimentary business.
Focus On Content Marketing
Content marketing is an amazing way to spread awareness among customers about the business. Creating and distributing valuable and relevant content across digital marketing platforms increases the chances of driving more visitors to the online store. Creating blogs, infographics, videos etc are some amazing ways to attract customers.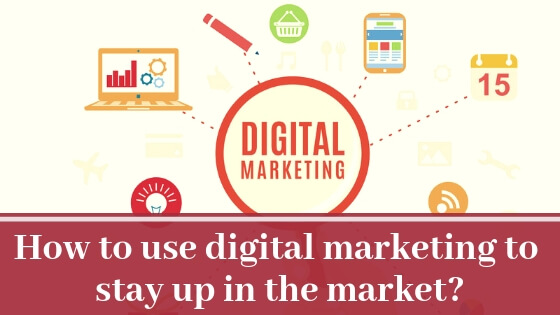 Don't Forget Mobile Strategy
The number of users accessing the Internet via mobile is rising continuously. Today, 52% of users are accessing the internet using mobile phones. Thus, it is very important to include mobile marketing strategies in your digital marketing campaigns. A mobile marketing strategy has many forms depending on available resources. You can run effective mobile marketing campaigns on social media, create mobile version of your online website or create an actual mobile application.
Must Read: http://www.trainingsadda.in/guide-to-successful-guest-blogging-in-2018/
A mobile application is a very effective mean of attracting customers. Here are benefits of a mobile application:
Can send notifications.
Easy for customers to order and check out.
The business logo will always appear on the home screen.
Go With Paid Marketing Options
Search engines and social media platforms offer paid ads to reach customers in a faster way. Some of the types of paid ads are pay per audio, pay per click (PPC), pay per view etc. Such promotional ads are very effective in driving results at faster rate. Businesses can drive sales in a few days if the ad campaigns are run in a proper way.
Combine Digital Platforms
Cross promoting each and every digital platform is a nice idea to connect with the customers. It ensures customers will receive communication where they will be most receptive. You can include links of social media pages in your emails, create an ad on social media for generating leads and drive traffic to your blog by including a link. The cross-promotion on different digital channels brings a lot of traffic to your business website.
Digital marketing plays a vital role in the growth of a business. The concept of digital marketing is cost-effective, delivers conversion, generates revenue, marketers can interact with customers, and build brand reputation. It is all about ensuring survival of your business. Share your thoughts and suggestions in the comment section.
Author Bio: 
Kavita is Outreach Specialist cum Content writer. When not glued to her laptop, she can be found making travel plans that rarely happen. Connect with Kavita on Twitter @dreamerkavita
Comments
0 comments