Digital Marketing
Know About Moz's Link Explorer, Its Working and Recent Updates
MOZ Link Explorer Working and Recent Updates
As an SEO expert or content marketer, you should know the importance of link building.
Through link building,
Despite its importance, link building can be very challenging. For example, it can quickly become a time-consuming SEO strategy when you can't access reliable to optimize the process.
Also, you may find it difficult finding suitable websites and even when you do; you might find it difficult getting their contact details. Hence, you are unable to maximize opportunities when you have them.
Problems in Link Building:
Apart from these problems, other problems you may likely face in your link building efforts are:
Being unable to use metrics such as domain authority to categorize links.
If you need to prove to your clients (or internal team) that you've been scoring backlinks from high-quality websites, then, you have to categorize this manually.
But this categorization would have been easier assuming you have a tool that can automate the process. Thus, you can easily forward the report to your client or team.
Most backlink tools can't automate this process.
Lagging time with your Domain Authority (DA) and Page Authority (PA)
If you have clients who depend on these metrics, these can quickly become a complicated problem. For example, the pa or da of their website hasn't changed despite having links from high-authority websites.
Thus, they would want to know the effects of your link building efforts on their PA(Page Authority) and DA (Domain Authority).
Read more: Why Customizing Strategy Is Necessary For Your Small Business
Since some of your links were not indexed, you need to use a tool or multiple tools to uncover historical, lost or new links.
Won't you love to have a tool to solve these common problems or even the less common ones?
Over the years, Moz's open site explorer (now link explorer) was used to estimate the possibility that a site will rank for a particular keyword or influence rank with links.
These possibilities were determined using their page authority and domain authority metrics
However, with many of their competitors (such as Ahrefs and majestic) coming up with better features, they seem to lag in the market.
Learn more: Guide to Successful Guest Blogging in 2018
Many SEO experts even believe open site explorer may have died long ago if not for their excellent content marketing and thought leadership.
Hence, when the company announced that it is increasing the size of its index so that the additional data can be used to determine its DA and PA scores, most of the SEO community were happy that the company is making an effort to improve their tool.
Since the moz open site explorer couldn't deal with most link building issues, the Moz's team decided to upgrade their open site explorer and renamed it link explorer.
Learn more: Is MOZ Open Site Explorer (OSE) Gone?
Why MOZ link explorer is the most comprehensive?
One of the reasons why link explorer provides the most comprehensive, quality link data available is that it uses 20 times the data of the previous version – open site explorer.
Here are three major reasons why we love this tool:
Comparison between your backlink profile and that of your competitor
With this feature, you can compare the performance of your website with that of your competitors.
Learn more: How To Do Competitor Research for Your Business?
You can identify the number of domains that link to each of your sites (or your clients' sites). Also, this feature of the tool helps you to identify the source of your competitor's backlinks. Thus, you can score links from those sources for your website.
Know more: Important Things You Need to Learn About AI & Digital Marketing
Page reporting
Since this tool finds broken links from your top pages, you can use that as an opportunity to perform some proactive outreach. Also, when a site has gone through a re-design, this tool can be valuable for benchmarking.
Discovery of invalid links
This tool allows you to see which URLs link to you but whose links are no longer valid. Thus, you can reach out to those sites.
How does Moz's link explorer compare with Ahrefs and majestic?
This comparison will be made using the following factors:
Indexing
Domain authority
User interface
The link explorer could find as many links as that of majestic and Ahrefs.
Moz calculates domain authority using a much larger index. Hence, the domain authority scores are more reliable. Based on experience, we've discovered that websites which dominate search engine results have domain scores between 10 and 15. Also, a site owner or SEO expert can observe changes in the score within a few days after building new links since the scores now update more frequently than in open site explorer.
Though link explorer, Ahrefs and majestic find the same amount of links, link explorer has a simpler user interface with limited features. Hence, if you're a novice or you need a simple to prospect for links, link explorer is your best option.
Read more: Can Local SEO Help Us Be More Visible in Organic Search Results?
Recent Updates to MOZ Link Explorer:
Apart from the name change from open site explorer to link explorer, here's a summary of the other changes made to this tool:
You can use domain authority to view link distribution
A simpler user interface
Moztrust is now Moz spam score
Updates on domain authority and page authority are now available on a daily basis; these updates are more frequent than in open site explorer
Moz now utilizes a much larger index
Recent update by the Moz Team is "A New Domain Authority Is Coming Soon: What's Changing, When, & Why". The new Domain Authority is going to update on March 5th, 2019 as per the moz update. It is called as "Domain Authority 2.0". Here I'm attaching the pdf file of the domain authority 2.0, it explains about the domain authority, what is changing, how will this affect to our websites, do's and don'ts for the DA. Find the full guide of the Domain Authority 2.0.
Here I attached the recent conversation with the moz team about the moz recent updates.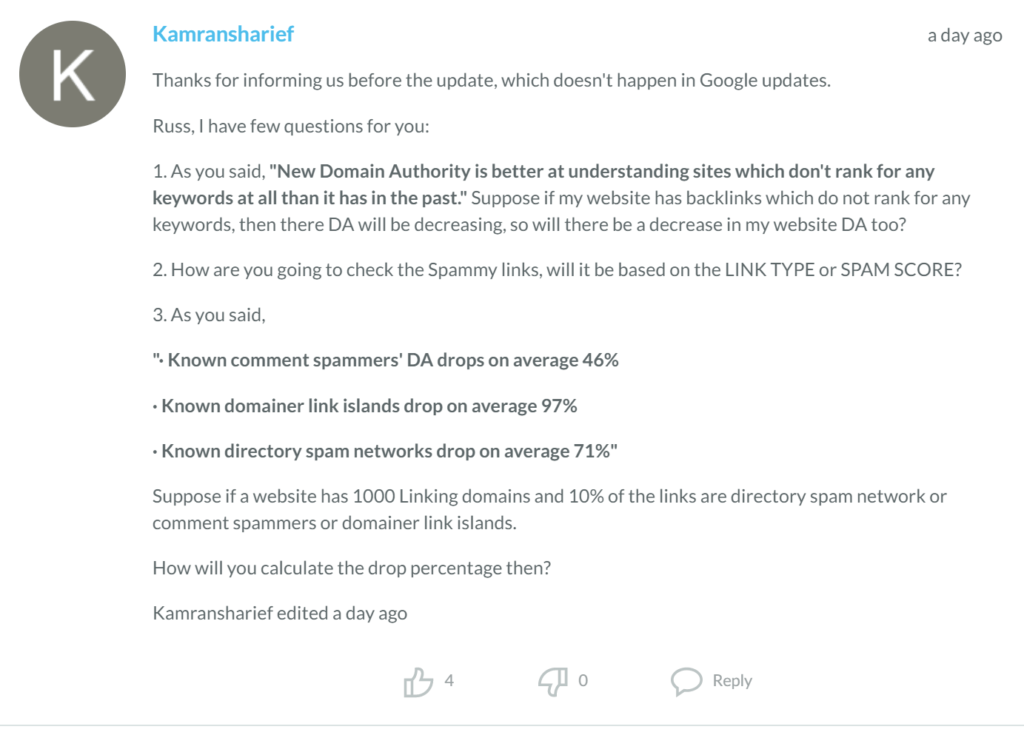 Answered by the moz team:
Conclusion:
You just learned more about Moz's link explorer. And that means you can now build backlinks to your site (or your client's sites) with greater efficiency.
It's worth mentioning again that Moz's link explorer is simpler to use and has less but useful features compared to its main competitors (Ahrefs and majestic).
Hence, we suggest you start with it before trying those other tools.
You may find it useful that you won't be needing those other tools.
Since most of these features can be useful for you, why not try out link explorer for yourself.
Here is the link: https://moz.com/link-explorer
So, get started with building those backlink profiles today. Because the sooner you do, the sooner you can start ranking higher in search engine results.
Know more: Business 101 Should You Outsource Your Digital Marketing
Author Bio:
Justin Kemp is working as a Jr. content writer and blogger with Ranking By SEO. He can be seen blogging about digital marketing, SEO, SMO, PPC, etc.
Comments
0 comments