Do you know how to perform local marketing on social media? In this article, we're going to provide you with perfect ideas to help you to increase your local sales via local marketing on social media.
Social marketing
Social media is now the number one means of marketing in the world. Around 50% of the world population is using social media.So, it can provide businesses with an unrivaled audience reach.
Almost all brands, both big companies and small businesses, are trying to build brand awareness and increase their sales via social media.
Despite the simplicity of using different social apps, marketing on them is a difficult task. You need a certain marketing strategy to win the competition.
One of the most successful marketing strategies on social media is local marketing.
Local marketing
As you know, every region/city/town has its own economic and cultural characteristics. You have to be localized in your marketing strategies to get the attention of local people.
In fact, the way the people of a region may react to a certain product/service can be completely different from that of other regions.
Read more: How Zero Budget Branding Works on Social Media
Local marketing is also called Local-based marketing. It can help your sales skyrocket and strengthen the identity of your brand in the eye of local people.
Fortunately, using social media, you can easily localize your strategies in marketing. In fact, reaching out to local people is easy with the help of social media.
Conduct local competition research
Having knowledge about the competitors is a must before embarking on any new career. Local marketing is not an exception.
Know more: How To Do Competitor Research for Your Business?
If you want to be successful in local marketing and build sales funnel in a certain region, you should know the target market and also the best competitors.
Try to do competition research exactly and find out the strengths and weaknesses of other brands. This can help you to concentrate on certain goals and avoid the try and error approach.
Identify your potential customers
Keep in mind that you can't sell your products/services to all people. More importantly, you can't reach out to all social media users and make them follow your account.
Concentrating on relevant audiences is key to success in digital marketing, and local marketing is not an exception.
Thus, this is a must for you to identify the most probable customers of your products/services in the region.
First, you can use your data from previous customers and compile their characteristics in terms of region, language, age, gender, position, etc. This can help you in reaching out to the right users on social media.
Also, you can use third-party apps such as Kicksta to automate this process and find niche audiences.
Define certain objectives
The purpose of every marketing campaign is eventually making money. But, as a marketer, you'd better define some clear and measurable objectives as well as realistic deadlines. Your goals need to be SMART:
You should know specifically what you exactly want to achieve at the end.
You have to be able to measure your performance based on your goals.
Your goals should be attainable and can be supported by your resources.
Focus on the objectives that are relevant to your niche.
Deadlines are paramount in your campaign and make your strategy time-bound.
You also have to know useful metrics to measure your performance. The number of followers, clicks, comments, likes, shares, and other impressions can help you to track your activity.
Select suitable networks
You are certainly familiar with top social media platforms such as Facebook, Twitter, Instagram, YouTube, Pinterest, etc. It's recommended to have accounts on these platforms, although thinking about alternative networks is a must.
The best choice can vary by the type of your products/services and the region you're going to market your brand.
For example, 71% of Pinterest users are females and therefore it's useful for brands related to women. Also, if your target customers are aged between 13 and 30, you should think about TikTok.
It's recommended to consider these demographics to know which platforms are useful for your strategy. Try to know the most sought after network among the local people and then focus on that.
A cost-effective approach is to cross-promote your content on all top social services to reach maximum exposure.
Localize your content
The key to local social marketing is to generate content specifically for local social users.
People usually love their hometowns, cities, and generally the places they're living in. You should make the most out of these social characteristics in your local marketing.
Try to include local issues, traditions, events, and any characteristics in your content. Local people will trust you when they see you are respecting local matters. You shouldn't appear too promotional since social users, especially local people, will stop following you.
User-generated content is one of the most effective means of localizing your content. Ask social users to generate quality pictures and videos while they're using your products or services. This will significantly increase the chance of getting more impressions on social media from local people.
Keep in mind that all features of social media platforms should be used to help you localize your social presence. For example, location tags on posts and the region on the top of Instagram posts.
Match SEO techniques with your local marketing strategy
One of the most common needs of people is searching for local shops. A majority of local people visit the shop or buy online immediately after finding a suitable product/service.
Local SEO is then a necessity for every marketer who wants to reach success in local marketing. Local SEO is actually the process of optimizing your website's content to appear in the search results of local keywords.
It's a must to use SEO tools such as AHREFS, MOZ, and Google Trends to identify what keywords are popular in your region and also in your niche.
Of course, your social media marketing strategy needs to match your SEO techniques. Try to promote your evergreen content on all your sites and social accounts.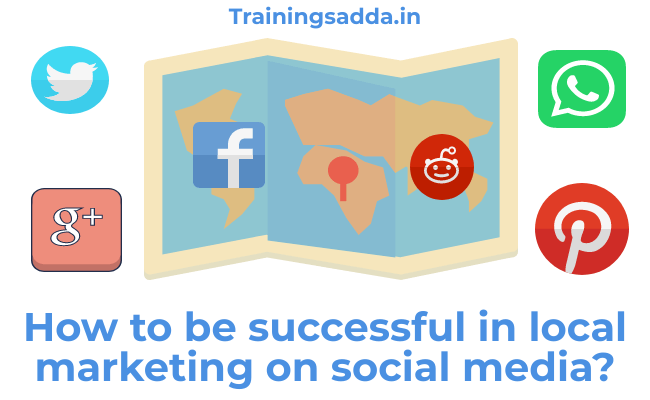 Engage with local people
After generating compelling content, your task is to engage with local people. Keep in mind that your content can't solely attract the attention of people and encourage them to buy.
If you want to generate leads and convert your followers to potential customers, you need to gain the trust of them. Building a sales funnel and a strong brand identity is important in local marketing.
Learn more: How to Use Automation to Keep a Tight Sales Pipeline
Remember that local people will become loyal customers if they trust you and believe in the quality of your products/services.
Try to interact with local people friendly and answer every question they might ask on social media. Higher engagement rates can lead to a stronger bottom line.
Find local influencers
People usually accept what influential persons say or suggest. You need to make the most out of this matter for your local marketing.
Social tools such as Awario can help you to find local influencers on social media. Building a durable relation with them can significantly increase your ROI.
More importantly, you'd better work with niche influencers because it seems more transparent. Remember to avoid mistakes in choosing the wrong partners. For example, many Instagrammers want to trade their accounts, based on a person familiar with the matter in Social Tradia.
Make sure that your relationship with influencers looks natural since it can affect the trust of followers.
Conclusion
Local marketing has many other practical and technical aspects and you need to try hard to succeed in it. Never forget to analyze your social activity. Try to be aware of the most recent trends in the market, especially in your location.
Comments
0 comments