Web Design
6 Magento Ecommerce Trends That Will Rule 2019
Best 6 Latest Magento eCommerce trends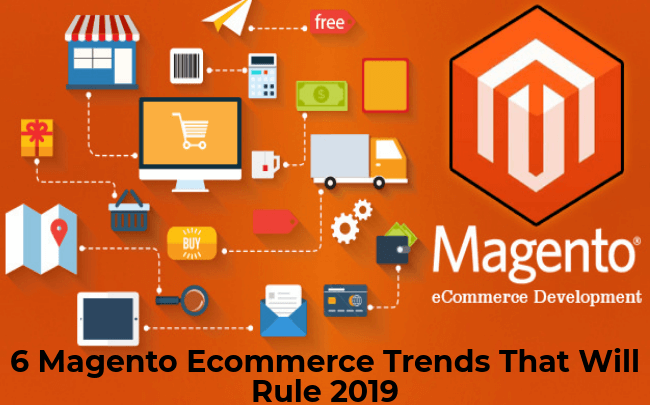 Going digital means having a content management system (CMS) that can manage creation and modify digital content. You need an online platform supporting multiple users in a collaborative environment. CMS can make core difference to stores, businesses and corporates because its features can be varied widely.
Making the leap onto the World Wide Web
Magento e-commerce is one such CMS platform professed to be the best for online shopping. It was originally created to be an eCommerce platform as its main functions and aim.
Know more: Top 5 Do's and Don'ts For UX Approach in Mobile App Development
Doubtless, it has more than achieved what it set out to do. Evolving e-commerce is changing the ways products and services reach its target audience. Our digital information highway is enticing consumers on the go with easier than ever before with highly interactive and user-friendly eCommerce web development platforms.
Affordable and Convenient
A leading open source platform from among many CMSs, magento ecommerce development provides an e-commerce solution for all. Advanced features, eCommerce-driven capabilities, themes and extensions are perfect to create a traffic-attractive web presence from scratch. Even novices can do this online with ease without incurring costs or having professional knowledge.
Know more: Behave Professionally On Social Media When You Want To Gain Positive Traffic To Your Site
Convenient Magento store custom designs and features allows you to do introduce out-of-the-box ideas for a unique representation of your brand. Follow the latest Magento eCommerce trends to jump ahead of competitors. You bet everyone is doing the same!
Best 6 Latest Magento eCommerce Trends
Grow Your Online Web Presence.
Here's how you can grow your web store, brand value and revenue.
Personalize Consumer Shopping Ability
Local boundaries and limits have suddenly dissolved with e-commerce coming on the horizon. Consumers swimming in ponds have suddenly discovered an ocean of opportunities. This has translated into being competitive shooting to sky high limits. When we say, the sky is the limit, we actually mean – boundary-less. In such circumstances, it becomes imperative to discover, accept and implement newer techniques to drive and retain consumer traffic.
A more and more personalized shopping ability provides a pleasant and perfect experience to customers. Potential customers are always searching to repeat past experiences with newer options.
Achieving this on the digital information highway, needs collecting data, buying history, shopping behavior and details. Data analytics is upheaving established norms as it opens up a number of personalized offers for promotional coupons, discounts, recommended products to surfers.
Know more: How Company Culture Impacts Customer Experience
Profits can shoot skywards by generating, following up and converting quality leads online.
Multitasking On the Go
The smartphone may have invaded personal privacy for employees requiring new laws; but it opens up e-commerce 24*7. A responsive website adapting to any on-screen size provides a seamless e-commerce experience anywhere anytime. This has becomes a necessity for increasing traffic and conversions. Creating a responsive website including and providing all the latest tech-savvy options like apps is necessary to reach potential customers.
Read more: What Are The Latest Social Media Tips For Small Business
Content Support to Perfect Images
Ultimately, everyone uses at least a word or two of language to complete a transaction. How rich your content is will enhance support to products and services you are peddling. It's like looking at the perfect human until the person opens his / her mouth. One correct word or one wrong word is all that it takes to decide your future. Understand your target audience to hire PHP developer and create content of value in support of genuine images. Buying decision can be easily influenced by a 3D image; but unless the customer interprets to click for this view, you are on your own. '3D' word content does the trick.
Learn more: Important Benefits of the Photos for Businesses in Instagram Marketing
Going Social
Even though the concept of social selling is as old as commerce itself, few realize the importance of widening their horizons. Emerging Magento e-commerce trends for 2019 allows you to be ready for the eventuality when most social media platforms bring in this functionality. Know more details about the "How Does Social Media Affect Web Designing".
Be ready to leverage advanced features for generating higher revenues.
Pop-Ups and Opt-In Forms Come of Age
They may have been an annoying hindrance as the internet and worldwide web grew from infancy to adulthood. Pop-ups and opt-in forms offer surfers the perfect opportunity to take a turn for the better on the digital information highway. Action cues boost conversion rates. It arrests consumer attention long enough for an opportunity to 'connect' for a meaningful experience. Elements like CTA and such, encourage visitors. It doesn't take money to explore.
Focusing to Create a Lasting Mind Impression
Online consumer retention rates are seen where rich and seamless use experience dominate user interface. Real time UI need split second speeds to hang on to a quality lead. A clean, simple and user-friendly web design with seamless navigation system, accessible search box, and fully-optimized product images continues to improve customer interaction with your Magento store.
Read more: Why Responsive Design of a Website Beneficial for Users?
Magento Ecommerce Trends are all set to take on the world with their emerging functionalities, designs and features. The most striking Magento e-commerce changes are expected to change online web presence into powerhouses for generating live energy. Competitors will vie with each other to dominate market place for as long as they can hold onto their leading innovative ideas.
Comments
0 comments