Digital Marketing
Use SNAP Carefully To Post Automatically To Instagram From WordPress
How To Post Automatically To Instagram From WordPress
You will find that your blog or site is already posting your content to Twitter and Facebook and you may wonder whether this is possible in Instagram as well. There will be a number of times when you will feel the need to automatically post from WordPress to Instagram from your website. Well, possible as it may, sharing every post manually on all the different social media channels can be really tiresome.
Well, you will need specialized plugin and tools that will provide it as this by itself are not an easy task. Most people start searching for help from WordPress auto post and even look for articles and blogs on the internet on ways to share WordPress posts on Instagram However, there are specific ways to do this.
How To Post Automatically To Instagram From WordPress
You will essentially need to have a WordPress website in a specific niche and also an Instagram account for that particular site. These are the fundamental steps to save you from the hassles of reposting and publishing posts manually to Instagram every time you want to publish a new content or even want to republish any existing post.
Unfortunately, when you check out if there is method on IFTTT for your purpose as you will find several regarding Instagram to WordPress but none about WordPress to Instagram.
Moreover you will find that the official Instagram API may not accept images posted from anything other than a mobile device. This is a safety move followed by Instagram to make sure that no spammers are able to publish anything through bots.
Plugins to use
All these however does not mean that there are no ways in which you can post images automatically and always have to follow the good old manual posting method. If you are lucky enough, you may find a couple of plugins for auto posting WordPress to Instagram
One of these plugins is the Social Network Auto Poster or SNAP. You can use the free version of this plugin and therefore need not know much about the PRO version. This Pro version however is a new feature introduced by the developers and comes with abundance of features and at an affordable price.
The other plugin is the Codecanyon repository which is also called the Instagram Auto Poster. This plugin is also relatively new and costs much less than the PRO SNAP version but it does not have as many features as SNAP does and is typically concerned with posting WordPress images to Instagram in particular.
To help you post automatically from WordPress to Instagram and make the best use of the social media that plays a significant role in promoting contents and engaging viewers, it is essential that you have your social media account set up and make sure that it is set on auto pilot. This will make it easy for you to reach out to new followers and readers and at the same time provide them with a better engagement opportunity through comments and discussions.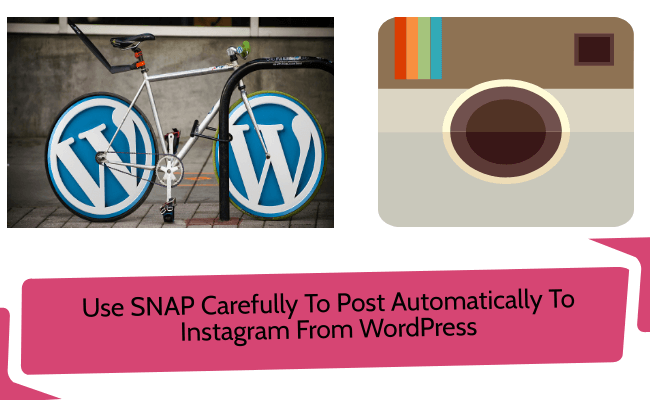 The popular method
To start with, you or even experts like Gramblast can not do anything without plugins. One you have that, you will need to follow two specific methods how to share WordPress automatically on Instagram. The most popular methodis by using the Social Network Auto Poster or SNAP plugin. However, you must know about this plugin better before you use it.
This plugin will enable you to posts automatically from your blog to your Social Network accounts whether it is Facebook, Twitter, Instagram, GooglePlus, Flickr, Blogger, Tumblr, LiveJournal, Telegram, Flipboard, or any other.
The entire process is totally automated wherein you will just have to write a blog post and the SNAP plugin will do the rest for you when you click the "Publish" button. Your post will go to all the Social Networks accounts that you configured.
You can use the "Free" or "Pro" versions of SNAP for this purpose. However, the steps of using this plugin are easy and as under:
Login to the WordPress Admin Panel
Go to Settings
Click on Social Networks Auto Poster Options
Select "Add new account" button
Choose "Instagram" from the list
Type your Instagram username and password and
Set the image format.
There are choices in setting the format for the image and these include:
Extended – In this format the images will be extended to make it square by the longer side so that the entire image can be seen in full view in the stream. This will make the image appear a bit smaller in the stream.
Cropped – In this format the image is made square by cropping some parts of it permanently.
Untouched – This is a specific format in which Instagram will crop your image for the stream. However, in this format you may experience an error such as 'Uploaded image is not in an allowed aspect ratio.'
No matter how popular a plugin SNAP is to post automatically from WordPress, there are few precautionary steps you must take such as avoiding Instagram's SPAM filter while using SNAP. This is because this SPAM filter does not care about auto-posting. Using SNAP you may do a lot of things that is hard to do from your phone.
You must also be careful about the fact that Instagram always watches the new accounts because the older accounts are less likely to contain spams in it.
Also keep in mind that Instagram does not support links at all. Even if you put in in your description, the URL will not be clickable. This is because Instagram considers all these posts with URLs as spams and suspicious and its specifically hates URLs that are shortened. All these will be deleted considering being a spam.
Apart from that, you must also avoid using the most popular tags as Instagram considers all such posts as suspicious and may delete them as well.
Therefore, it is better to post what is humanly possible and not post five images per minute everyday as that will get your account noticed, considered as spam and subsequently deleted.
Author bio –
Daniel Mattei is a Professional writer. He has written many articles on Social Media. He is quite experienced in the field of web marketing as well as website designing. You can visit Gramblast and learn how to build more follower presence.
Comments
0 comments