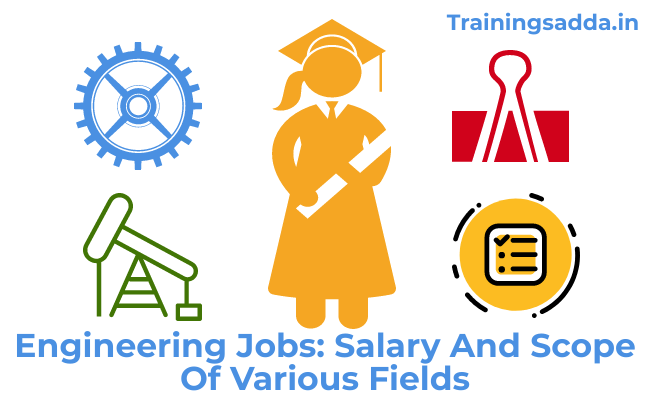 Engineering is one of the brightest options that students choose. We encounter engineering in our day-to-day lives. Since the last two decades, the economy of India has been elevating and hence new companies are coming into existence in the country. Due to this change, the career prospects after engineering are brighter than ever. Engineering has sub-branches and each one has its own significance. It is advised that you choose a branch according to what your interests are. It is true that engineering jobs have a high salary package. But, you need to make your decision of pursuing engineering irrespective of this. Until and unless you do not have the passion, you should not opt for engineering.
To help you in deciding your field of interest, here is information on various branches in Engineering.
Read more: Tricks for Successful Career in Engineering
Different Branches in Engineering, Salary and Career Scopes
1. CIVIL ENGINEERING
There are a lot of core engineering streams and civil engineering is one of the most important ones. Civil engineers take care of a lot of things around us. They not only design and build but also supervise and operate. Civil engineers are responsible for maintaining infrastructure projects in both the public as well as the private sector. Since India is a developing country, the infrastructure is expanding continuously. Therefore, the career scope for civil engineers increases at an average which is more than the increase in any other career line.
Career Scope of the Civil Engineering:
With the advent of infrastructure, the need for civil engineers will be ever-increasing. The race of development is to go on forever, and so civil engineers will always have rich career opportunities. Companies like Larsen and Toubro Ltd, PAC Constructions, etc. hire civil engineers actively. You can work in the private as well as public sector after you complete your education.
Salary Scope of the Civil Engineering:
After you complete your degree as a civil engineer, you can start earning around INR 5 LPA. With experience, the salary increases to more than INR 25 LPA.
Read more: PSU Recruitment through GATE | Government Jobs for Engineers
2. MECHANICAL ENGINEERING
One of the oldest branches of engineering is Mechanical engineering. And this field is not just about machines. It has to do with the mechanics of everything around us. From machinery, robotics, microdevices to material science, this field is broader than you can imagine. Anything that moves, has a mechanical engineer behind it who worked on it. These engineers design equipment and develop it along with testing.
Career Scope of the Mechanical Engineer:
The trends of the market will vary continuously, but it is definite that mechanical engineers will always be needed. Automobiles, aircraft, and big electrical plants, everything works under the vigilance of mechanical engineers. The job gives great exposure since each individual's life is surrounded by mechanics in some way or the other. The companies that hire Mechanical engineers are also numerous. ISRO, Tata Motors and Mahindra & Mahindra are just a few to name.
Salary Scope of the Mechanical Engineers:
On average, a fresher mechanical engineer can earn around INR 261k. After gaining experience for about 1-3 years, the hike increases the salary to around INR 5 LPA. And with an increase in experience and skills, the hard work of a mechanical engineer can fetch them around INR 10 LPA.
3. ELECTRICAL ENGINEERING
This is one of the most prominent branches of Engineering. Electrical engineering can be the go-to choice for you if you have a passion for machines and their mechanism. This field is prominent because it basically runs the world around us. And since it is one of the major branches of engineering, it is further divided into a lot of subdivisions. Electrical engineering is the power behind all other engineering fields.
Check more: jobs for petroleum engineers in the coming years
Career Scope of the Electrical Engineering :
All big companies have an IT Sector, where electrical engineers will always be needed. Operations, manufacturing and maintenance will always be needed to take care of and these are the responsibilities of an electrical engineer. Famous and reputed companies like Bajaj Auto Limited, Crompton Greaves Limited, Wipro Lighting, Robert and Bosch, etc., hire electrical engineers actively.
Salary Scope of the Electrical engineers:
As a fresher, an electrical engineer can earn near INR 3 LPA. After gaining experience, the hike in salary can lead to opportunities to earn around INR 7 LPA. Of course, the more hard-working and talented you are, the better your prospects of earning money.
4. COMPUTER SCIENCE ENGINEERING
Apart from engineering that deals with the building of machines like computers, there is another type of engineering that has individuals who work on these machines. Computer Science engineers deal with the software in computers. The computational processes are taken care of by the computer engineers. The whole system of businesses nowadays runs on computers. And computer engineers are needed to go through programming languages, artificial intelligence, and all other computer-related technologies.
Career Scope of Computer Science engineers :
As long as computer systems exist, computer engineers will be needed. And even if in the coming era computers are replaced, computer engineers will be required. They will solve issues regarding the system that will replace computers. Computer engineers will be forever needed to deal with database management, web designing, etc. Companies that hire Computer engineers are endless. Some of them are Infosys, Wipro, TCS, HCL, Amazon, and Facebook.
Salary Scope of the Computer Science engineers:
A fresher Computer Engineer can earn around INR 2-3 LPA. And within just one year or two, the engineers can get an amount double this salary bracket. The bracket of earnings can keep on increasing and can have highly impressive numbers. But you need to be skillful and hardworking, gaining experience at every step of your career.
Before a student can choose the option to study engineering, they need to decide which stream to choose from. Do not just go with the flow and trend when you are to make the decision of which field to choose. Make the decision according to your interests. Trends tend to change very frequently. Even if you choose a field according to the ongoing trend, you will not be able to cope up with the trend. Because by the time you graduate, the trend will change. After all, 4 years is a long-time period for trends to change. Moreover, you will not be able to give your best if you pursue a field that you were not originally interested in.
Check more: Vocational Courses After Class 12th or Intermediate
About the Author:
Sumedha is a content developer at Receptix. She is a Post Graduate in English and has the penchant for creating a variety of content that is attention-grabbing. She develops real-world content that can certainly elevate the strategical stance of an organization. Skilled in writing detailed articles about the what's and if's of the corporate world and finding a job.
Comments
0 comments