Health
Cardio Benefits, Fat Loss and Muscle Building
Is Doing Cardio not good for Muscle Building?
If you are interested in health and fitness then I would surely say you have listen many times about Cardio. Isn`t it, Right! So today here you will know each and everything about cardio and cardiology! What actually it is? How it is related to fat loss and muscle building? Why this is important for your health. All these kind of topics will be covered in a simple manner so that you should now properly. Lots of people are confused about the term "Cardio" because in every fitness program at least one time you have to do it.
What is Cardio and Cardiology?
Cardio or Cardiology is a condition when your heart beats more than a normal limit like normal heart beat considered is 70-100 B/M, but when you do any kind of physical activity and your heart beats at 110-180 B/M then you will be considered in cardio condition. Now is it Good or Bad? It's Fabulous, the benefits are so superb, when your heart beat increases your heart pumps lots of blood, and your blood circulation increases. The functions of your lungs performed, this way its also a good exercise for your lungs. When you do cardio 4-5 times a week your heart will be young and you will not get any bad medical condition related to heart and cardiology. Cardio has not just these benefits but if you are overweight and are in fat loss program then it will surely help you in fat loss because in doing cardio you will burn enough calories that you will burn the Stored Fat.
Is Doing Cardio not good for Muscle Building?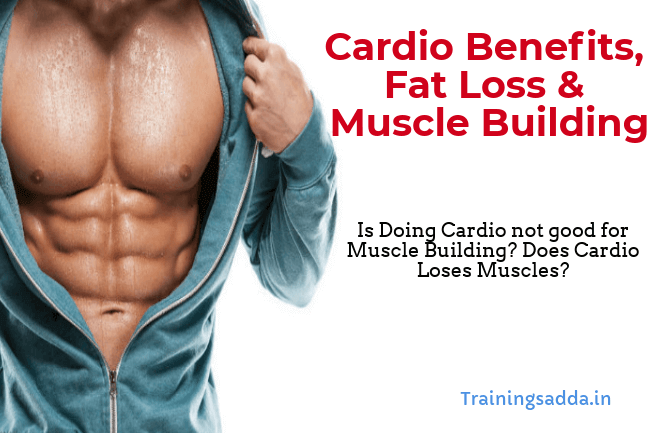 Does Cardio Loses Muscles?
This is the big myth I have ever seen lots of people talk about. In reality cardio will not burn the muscles but if you are not taking protein that your body requires. Its just simple take complete protein throughout the day so you will not face any muscle loss. When you do Cardio, your body burns calories and the calories will be in any form like Water, Carbs, Fat or Muscle! But when you take protein properly then the muscles will be saved and the body tapes stored fat. If you are muscle building program then you should do 3-4 times cardio in a week.
Cardio for Fat Loss
As you know that cardio is just not a single hitting muscle exercise but it's a very effect exercise for the overall body. When we add cardio in fat loss programs/workouts it creates a magic effect! When doing cardio in the morning or after weight training it burns your stored fat this way you will get awesome results. Do Running, Rope Skipping, Cycling with some heavy weight body workouts like dumbbell side lateral raise after weight training so that you will burn stored body fat which is the Goal in fat loss programs. If you ask any Aesthetic Person how much cardio is important for you? He will give you the best answer because Cardio plays a big role in getting aesthetics.
Cardio for Heart Health
Cardio is no doubt a exercise which not just really helps you in fat loss or in muscle building but at the same time it will be working for your heart health. Keeping up the take care of your heart health issues cardio helps you to loss fat from your veins where the bad fat has been there and you got heart attacks and strokes! So doing cardio not for only fat loss but it has a lot of great benefits to your overall health. Try to do cardio every other and in the morning as in empty stomach!
If you are having dry skin issues then How To Treat Your Dry Skin.
Comments
0 comments