Technology
Diving Deep Into the Future of Mobile Apps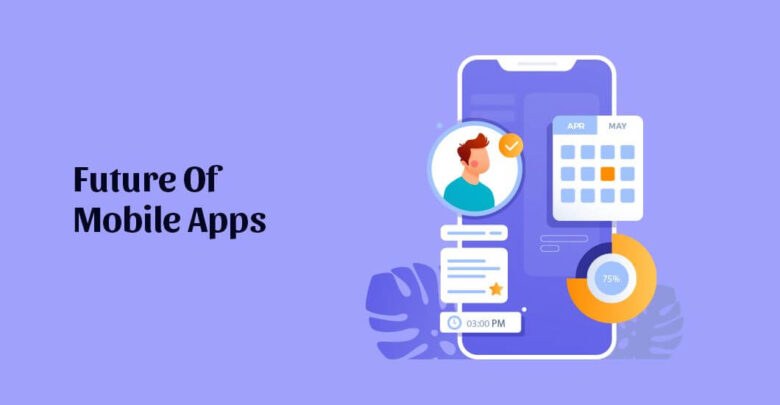 By, 2025 around 71% of the world population will have subscriptions to mobile apps. Apps have become a part of life as it makes life simple and easier.
For instance, ordering groceries to get salon service all are at the tip of the fingers. Modern smartphones are smart and it comes with more than 35 apps. Even the phones provide enough space to download more according to the user's preference.
The businesses are moving online and the companies are capitalizing in user-friendly apps. The mobile industry is at its peak and according to numerous surveys, it will grow in the coming years.
Is the app market growing or constraining? Well, the answer holds up in the futuristic trends of mobile apps.
According to research, about 50% of mobile users download zero apps a month. So, it is important to make the app creative and easy to access as most of the apps get uninstalled by users in a couple of days due to low productivity.
So, what are you going to see in the future of mobile apps? The AI is going to be more powerful and technology will bring us closer to mobile apps.
The domination of the voice assistant
5G technology is about to step into our lives through mobile phones. This will give access to high-speed internet which will make the businesses grow rapidly.
The introduction of voice assistants will be a must as it will make your search experience better and easier. It will enhance social networks and development will skyrocket in a few years.
Siri and Google's assistant have been introduced earlier and few companies are investing in a similar approach. This is the future trend you are going to experience.
Know more @ What is Google Gravity?
The apps keep us engaged in our work and leisure time so with improvement in technology we are going to experience a better digital world.
Three-block strategy
The future of mobile apps can be divided into three blocks.
Speed
Precision
Reliable access
Users download a mobile app for entertainment or an essential purpose. It is important to develop an app that provides speed and efficiency in research, precision-based research, and reliable access to information. Here is an explanation of each block.
Speed:
When we use the search bar in any app we can't wait for the page to download. According to research if a page takes over 3 sec to download the users claim it as slow and leaves the page. It leads to a low ranking of the app.
The app is faster than a mobile network which means the user can access content quickly. The Millenials are ruling the upcoming trends in the digital market.
A survey says that 62% of the Gen Y population uses an app to make purchases. The apps which provide personalized viewing experience of products and exciting offers with speed in payment gateways are preferred more.
Profitability and precision:
Enabling geolocation with the apps can be profitable for local businesses.
For instance, food delivering apps like Swiggy enable the geolocation to provide you the best restaurants in your locality. This precision in-app is profitable to both users and service providers.
The collaboration of geolocation in mobile apps has been experienced by users and according to research, it will grow in the future. The businesses will be supported by it and this trend will be the future of mobile apps.
Reliable access:
A lot of apps grow on providing reliable content to users. Social media is growing and a new generation of developers is encouraged in developing social media apps. The users use these apps in the hope of getting relevant content.
The media houses are promoting their website into apps so that users can be more engaged in political issues and get information on topics around the world.
The AR technology
The new trend which is going to rule in the coming years is AR and VR. AR will not be limited to mobile games; it will grow exponentially over the years.
Apple has announced apple glasses that will run by AI and have AR technology. This shows that the next generation is about connecting our life to apps.
We will see the introduction of AR in real estate, retail, health care, and many others. AR is going to be a game-changer in the way we consume technology.
The forward-thinking companies have already adopted the concept of AR and VR and capitalizing for tech-savvy consumers.
AR is not new, it is used in gaming apps and the virtual reality comics have put standards for this. The apps will become the host and will be used as a platform to run AR technology.
Ecommerce or mobile commerce
Digitalization has changed the way of payments. The enhanced cybersecurity and OTP has gained the trust of users to use easy payment gateways.
At present, several apps provide access to digital payments. This is going to grow in the future. The users will go cashless and slowly the use of credit cards will be outstripped by digital payments.
The mobile payment system will grow stronger which will drive the purchasing of mobile in the coming years.
Learn more: 12 Vital Components To Know Before You Launch Your eCommerce Mobile App
The easy payment procedure will encourage other eCommerce businesses and by this, the apps can support other apps. People will prefer to use digital payment by their smartwatches or mobiles.
Is IoT the future?
App development is the bandwagon in the IT industry. The students who have chosen as android app developers are opening startups and gaining popularity with smarter apps.
Customers are looking for apps with customized services. Companies are working on the skills to woo customers with effective mobile apps.
Mobile app developers are now looking into the Internet of Things to develop an effective application.
Internet of things is an umbrella term used to describe the ecosystem of a device that shares data for better efficiency of apps. The cusp of this technology is that it will bring the nascent developers to create better apps.
IoT development is going to bring change. It will encourage developers to work on hybrid development. The native mobile apps are developed and work on the platform they are created.
While in IoT the emergence of a hybrid app is more and more. The enhanced UX and integration of advanced coding will allow users to experience an app of multi-purpose.
Conclusion:
The apps market is growing and a lot of new technology is yet to come. The 5G network and introduction of new generation mobile app developers will create change in the future.
See more: Top 8 Upcoming Technology
The cost of developing an app is reducing so small scale businesses are also encouraged in setting up the stage for the launch of their apps. Smarter apps give your business a competitive edge in the market.
Author Bio:
Harikrishna Kundariya, a marketer, developer, IoT, ChatBot & Blockchain savvy, designer, co-founder, Director of eSparkBiz Technologies, A Mobile App Development Company. His 8+ experience enables him to provide digital solutions to new start-ups based on IoT and ChatBot.

Comments
0 comments