Health
10 Benefits of Puzzles to Improve Mental Health and Overall Development of Children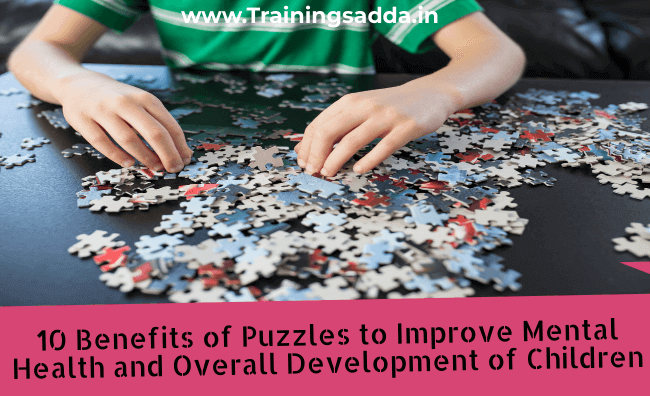 Did you know? Solving jigsaw puzzles has many health benefits, including brain-training, hand-eye coordination improvement. As the puzzle is pieced together, the stress decreases, making you feel satisfied and motivated.
Yes! The National Center for Biotechnology Information (NCBI), revealed that solving jigsaw puzzles is a low-cost, intrinsically motivating, cognitive leisure activity. It is a fantastic game that can combat loneliness when played in a group. Jigsaw enhances our ability to focus and encourage the production of dopamine (a neurotransmitter that regulates positive mood).
Read more: How Using Technology Can Help With a Child's Education
According to the Centers for Disease Control and Prevention, about 1 in 6 American children aged 2-8 years has a mental, behavioural and developmental disorder. (1)
With a spike in these numbers, mental health becomes a priority today. As we all know, fun and colour excite the child's eyes and puzzles are an engaging way to stimulate the growth and development of the child.
Choosing the right puzzle is a critical thing too.
In this article, I will inform you about the benefits of puzzles and some puzzles worth buying or downloading.
11 Merits of Puzzles in Early Development and Improving Mental Health
Parents buy puzzles to keep their children involved and most importantly to keep them quiet. But, how many of you knew that it improves overall growth and development?
Hang on as I take you to a list of 11 benefits of puzzles.
Learn more: 20 Education Apps for Android and iOS You Cannot Miss
1. Enhances cognitive skills
Puzzles develop the brain-based skills like the ability to learn, analyze problem, reasoning and problem-solving capability that aid in the overall development of the child. It helps in increasing their visual special awareness by exposing them to a variety of topics like colours, alphabets, numbers, shapes, animals, etc.
Brain fitness puzzles like crosswords, sudoku, Rubik's cube, and more can help in preserving cognitive abilities.
2. Develops eye and hand coordination
As children are busy using trial and error method while finding the perfect fit to complete the puzzle, a huge amount of concentration and the right coordination of eye and hand goes into the process. As the child tries to mix and match the puzzle, there is a simultaneous development of the child's eye and hand as it manipulates the puzzle.
Read more: 9 Healthy Foods That Are High in Vitamin C
3. Boosts problem-solving abilities
Children have a problem in front of them with pieces of puzzle randomly spread. To solve it, they need to apply critical thinking to get an idea about where to fit the different pieces. This boosts strategic thinking and logical reasoning ability. With every new puzzle, the child tends to develop strategies quicker to solve the puzzle and can solve it faster the next time.
As the child finally succeeds in solving the puzzle, there is a whole different experience that he/she gets through the play.
4. Improves vocabulary
Vocabulary is often unobserved, but it is an important skill for early development. Introducing him/her to new words through puzzles is a significant way to make him learn and remember the word throughout.
Read more: Top 10 Technologies Used To Teach Students
How about giving him/her a puzzle consisting of map, animals or even a crossword would help him remember the word for his entire life?
5. Infuses motor skills
It is a simple action that involves the child to use his/her muscles. Development of motor skills is the milestone that every child needs to achieve. Fine motor skills are necessary for picking objects, writing carefully, blinking an eye, etc. It includes small movements like moving fingers to get the puzzle piece, stacking the size at the right place, etc.
While gross motor skills aids in performing activities like walking, running, stacking blocks, solving larger puzzle pieces, etc.
Puzzles cater to develop strength in the fingers and make grasping easier. Their grasping power tends to increase as they tentatively choose big or small pieces, twist knobs and press the puzzle at its predetermined space to complete it. These little activities play a vital role in the growing years.
6. Introduces social skills and teamwork
As said above, puzzles can be played together to develop social skills. Challenge your child to take up a larger puzzle with a friend and see how communication and teamwork can help in effective completion of the puzzle.
Read more: Effective Digital Tools Aid in Student Engagement in Classrooms
7. Builds self-esteem
'A man cannot be comfortable with his own approval'- as rightly said by Mark Twain.
In the end, the child feels accomplished after overcoming the challenges in solving the whole puzzle. It gives a boost to their confidence and self-esteem and prepares them for future challenges.
Puzzles are a fun way to challenge a child's mind and teach him/her life-saving skills.
8. Helps in sorting and classifying
Puzzles need to be sorted well based on the colour or design before classifying it systematically. This is an excellent skill that will help children to simplify things through proper sorting and classifying before assembling it.
Read more: Top 6 Apps to Make Your Studies Easier in 2019
9. Master basic skills and concepts
Puzzles nurture the basic skills of the child such as patience, goal setting, sense of achievement that is at the core of a child's development. Youngsters cannot be taught about the holistic concept without enrolling basic virtues. These things will help the child to understand his/her surroundings and manipulate things on their own.
10. Emotional skills
Children are acknowledged or rewarded after completion of the puzzle this makes them emotionally attached to the game. It helps in creating mood and perseverance to hold on through the entire game.
11. Boosts memory
Your children will remember the shape that didn't fit earlier in order to fit it later. Learning through puzzles can be fun and exciting for the child. You can even ask them to solve a puzzle with a map on it and see how they remember the location of each state.
Key takeaways:
Several solutions are possible with puzzles.
Puzzles like board games and other competitive games help in developing strategy building skills and social skills.
Different colours or designs of puzzles gives freedom for creative thinking.
Start with simple puzzles and increase the difficulty level at later stages to test their mind.
Grant your child the opportunity to learn from simple shapes, abstract shapes, jigsaw puzzle, silhouettes, mathematically designed puzzles and likewise. Let them learn everything at their own pace.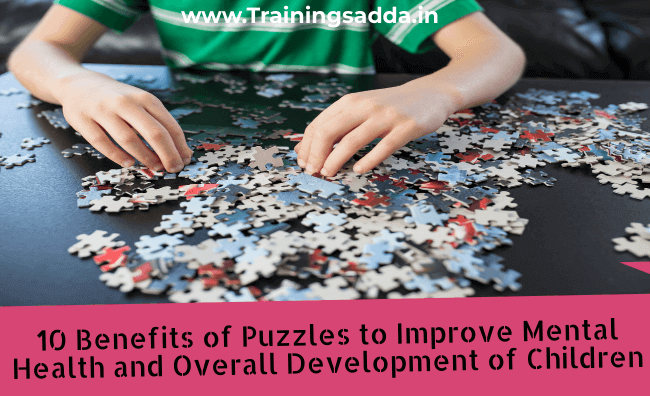 6 jigsaw puzzle game apps worth playing:
1. Jigsaw puzzles epic
2. Houses jigsaw puzzles
3. Good old jigsaw puzzles
4. Smart-brain games and logic puzzles
5. Word search puzzle
6. Jigsaw puzzle world
Puzzles are the perfect food for the brain:
Board games, puzzles, riddles are open-ended and imaginative games that make your child creative and happy at the same time. Fitting a piece here or there educates your child to learn simple skills that will help in early life. Puzzles are handy and can be used anywhere- school and home.
Read more: In What Ways Teachers Can Use Online Assessments To Improve Students Engagement and Learning
What's your child's favourite puzzle game? share your comments in the comment section.
Author Bio:
Priyanka Joshi is associated with the marketing activities of Nalanda International School, Vadodara and has a passion for writing and collecting stamps. Nalanda International School provides best-in-class education to the students with the latest facilities.
Comments
0 comments