Health
How Are Pharmaceutical Creams Made?
Allowing the skin to absorb curative formulations by directly applying on and delivering the active ingredient to the affected area is how pharmaceutical preparations for external use are utilized. What conditions require this kind of application? Mostly, skin ailments such as fungal infections, rashes, skin irritations, allergies, etc. These pharmaceuticals are usually made into the form of creams or ointments.

The products are classified into two types of emulsions. When we say cream, that basically means oil in water (o/w) and when we say ointments, that primarily pertains to water in oil (w/o). What does this mean? Creams are composed of 50% or greater water and 50% or less oil. However, ointments are comprised of 20% water and 80% oil. Quite a difference, huh?
Read more: 7 Types of Cosmetic Dentistry Procedures
How are these products made? Let's dig deeper unto creams.
How Creams Are Made
Emulsions can consist of various substances like palliatives, waxes, and lubricants dispersed in an oil phase and a water phase with agents and preservatives such as mixing, balancing or stabilizing and thickening. Colorants are also added in several cases. In a phase either or the two mentioned, active ingredients are diffused or appended once the emulsion is ready – that is when it is already formed and cooled.
The Manufacturing Process
Four major operations are involved in making pharmaceutical creams, as referenced to Silverson's Production of Pharmaceutical Creams and Ointments. The attributes or characteristics of the products made may vary in a myriad of ways, but they all undergo the same manufacturing process.

Preparation
To begin with, the first step is to prepare the oil phase. Ingredients need to be melted, which will require heating. Dry blending is performed in flake and powder ingredients. Smaller particles are necessary so that these ingredients can be easily mixed with one another, and with the oil phase.
Hydration
Hydrous ingredients must be soaked in water. These ingredients are the emulsifiers. Stabilizers and thickeners are included as well. In a separate container, the process of hydration is set to accomplish. To speed up the operation, heating is encouraged or somehow, required.
Read more: How To Remove Dark Circles Under Eyes Permanently
Formation
This step refers to the combination of the two phases – oil and aqueous phases. An all-energetic, forceful, robust and strong whipping will make the forming of emulsion possible.

A piece of equipment used for the process of emulsification is called a homogenizer or a mixer for larger quantities of substances and solutions. Ginhong is a manufacturer of a wide variety of mixers that will help you in this stage.
Dispersion
As said, the active ingredient must be added and dispersed very well in a uniform manner as it only takes up a tiny proportion of the entire preparation. This is done in order to make full use of the product effectiveness as well as to optimize the whole yield.
The Different Methods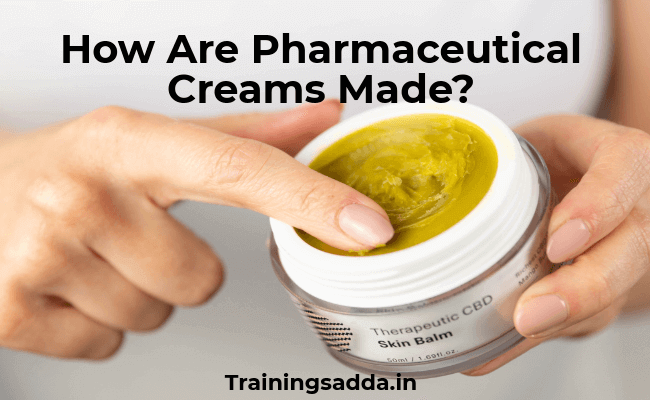 Distinct ways can be applied to creating pharmaceutical creams. There are three methods below that you can use according to your preference:
Read more: How is Blockchain Impacting on Healthcare Industry?
Trituration Method
The Trituration Method is employed for fine and insoluble grains, liquids or particles. It uses a technique called geometric dilution which involves mixing a little portion of salicylic acid powder with a base of the same measure. The blending continues until the entire fine powder component and the base are carefully and uniformly mixed and combined. The salicylic acid powder should be evenly dispersed through the oil base.
Levigation Method
Through the use of water, levigation process grinds an insoluble substance into a crushed, fine powder. Thus, it is also known as 'wet grinding'. This powder stays on the water, flowing through the apparatus as it serves as a murky liquid or paste. Then, the material is brought in to join the blend.
Read more: How To Treat Your Dry Skin When Nothing Works!
Fusion Method
The fusion method boldly relies on the application of a certain amount of heat. It is the process of melting or liquefying through high temperature or fire. It can be pretty much compared to cooking. You mix all the ingredients and the meat in a casserole, as they boil within due to the fire underneath. As for the making of creams, the base, and all other components are combined and mixed inside the heated machine.

This process is done gingerly to avoid thermal degradation of any component.
Conclusion
Pharmaceutical creams have quite established a necessary place in an individual's set of possessions. As you notice, the cosmetic industry is booming with all its beauty and skin products because humanity has gotten far concerned with health and beauty more than any other material things. As skincare has been introduced to the masses, the selling of different creams, ointments, lotions, makeups, etc. ensues. Beauty lines have arisen and became very prevalent. In connection with this, whether you are a manufacturer, a franchiser or a consumer, we think it's very much important that you are aware of how these pharmaceuticals are made.
Comments
0 comments