Technology
Which Is The Best Version; QuickBooks Pro, Premier, or Enterprise?
When anyone talks about the best accounting software, then the first name that comes in everyone's mind is QuickBooks. In the current technology-driven era, being ahead in the race of competition has become very necessary, and one way of doing so is using technology, even in your accounting operation. QuickBooks is surely the most advanced and robust accounting software that offers a wide range of accounting features, and the best thing about it is it can be hosted on the cloud platform as well.
But one of the biggest dilemmas that most of the people shifting to QB face is; which version to choose? There are three different types of QB versions available in the market, and all three have their advantages and disadvantages. When you shift to QuickBooks, then you will be given the following three options:
Read more: Important Tips When finding a Good Cable Manufacturer Online
Three Versions of QuickBooks
If you think that which version to prefer then and not able to come up with the proper decision, then you have come to the right place. In this blog post, we are going to discuss the three versions so that you can choose the best one without any hitches.
QuickBooks Pro
Pro is surely the most basic version of QB accounting software, but it contains all the accounting features needed by small and medium-sized businesses. You should know that if the revenue of your business is up to $1 million per year and if you have less than 20 employees, then you should go for QuickBooks Pro.
With all the core functionalities of accounting software like creating invoices, recording banking transactions, and generating financial statements, Pro is surely complete accounting software. But there is no industry-specific feature in QuickBooks Pro like Premier. In addition to this, there are some data limitations as well when you compare it with Enterprise. The maximum numbers of users allowed in QuickBooks Pro are three, and you can manage multiple currencies, manage sales tax, create estimates, create a purchase order, and do other core accounting tasks with this software.
Read more: Blockchain: The Strengths and Weaknesses
QuickBooks Premier
There are two variants of Premier available in the market; Premier and Premier Plus. All the features of Pro are available in the Premier version, but there are some additional features as well. One of the best things about Premier is that it comes in different industry-specific versions like nonprofit, manufacturing and wholesale, contractors, retailers and professional services. You should know that Premier can also be configured using a general business option.
As discussed above, Premier contains all the features of Pro, but what makes the Premier different are inventory functionality, forecasting tools, and industry-specific tools and reports. In addition to this, there are features like tracking multiple units of measures, creating a sales order, creating price levels, viewing or printing past bank reconciliation and business forecasting. The maximum number of users allowed in the Premier is 5. QuickBooks Premier is surely an advanced version of QB Pro with various additional features.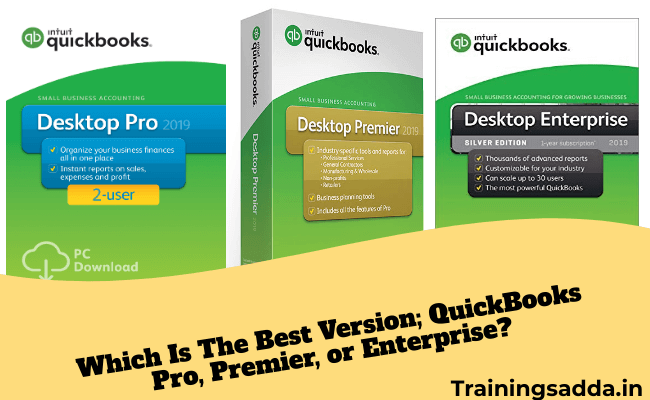 QuickBooks Enterprise
QB Enterprise is one of the most advanced accounting software, and it is preferred by those businesses that have more than $1 million annual revenue and employees ranging from 20 to 250. The maximum number of users allowed in Enterprise is 30, and this is why a bit larger firms prefer it but still falling in the SMEs category. Just like Premier, there are industry-specific versions in Enterprise as well. With the industry-specific versions, you will get a customized chart of accounts, a customized product, and a services list.
Learn more: How to Backup Zimbra Mailbox and Convert Exported Zimbra TGZ
Enterprise has all the features of Pro and Premier. In addition to this, Enterprise also has advanced reporting for creating invoices, a fixed asset manager, and a new pick pack and ship inventory process. When it comes to data limitation, then you should know that QuickBooks Enterprise Hosting Provider can hold up to 1 million customer vendors and employees combined.
There is nothing like that best version of QB, as every version has its advantage and disadvantages. So choose the version according to your need and demand.
Author Bio:
Jeff Morgan is a writer at NetworksGrid with several years of experience in the IT industry. She loves writing and exploring the world of technology while making the digital platform a more informative platform. Technology is what she eats and drink, and she has a firm grasp on topics like managed IT service, managed firewall service and managed NOC service. 
Comments
0 comments