Technology
Ways in Which AR and VR Are Transforming Training in The Manufacturing Industry
How AR and VR Are Helping in The Manufacturing Industry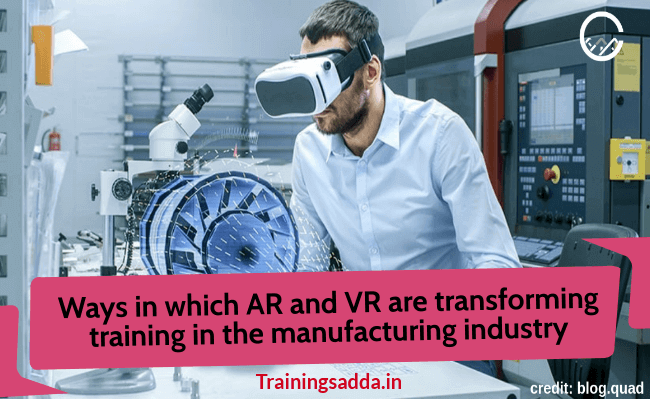 Manufacturing is such an industry, which evolves every second without a pause. The greatest challenge faced is to upskill new workers on the constantly changing virtual reality training programs with efficiency and reducing their assembly time. Training in this industry is of the most importance as one tiny mistake in design or concept could cost in millions. If you are an early user of AR (Augmented reality) / VR (Virtual reality), then you must be familiar in the ways these technologies have altered the way engineers are trained by growing their skills to create the best virtual reality solutions.
How AR and VR Are Helping in The Manufacturing Industry?
1. Designing your Product:
Early days sketching on paper was the ultimate way to create your design. Later, the computer helped create 3D images to help engineers visualise an all-dimensional design. VR has taken things up a notch. Now the designers can interact in real-time and understand the pros and cons of their designs. For ex: The Ford Motor Company to adopt this method.
Read more: The Top Reasons People Succeed In the Machine Learning Industry
2. Reduction in Assembly time:
The focus of every company is to simplify the assembly process of a complex product. For ex: The Volvo Company uses Microsoft HoloLens, to testify each part of the assembly process and check if it is working properly.
3. Global unified training:
Successful Virtual Reality Companies need to maintain their brand image. This can be achieved by providing unified global training to all their employees. Traditional training days are gone. With the help of AR/VR, you could be sitting in a room with people from all across the globe and learn in a simulated holographic environment.
What is AR/VR?
Augmented Reality Solutions has changed the concept of grasping information. You could connect to your devices and view a blueprint, drawing, or documents for your next assignment. This reduces printing costs and wasting time on producing guide manuals, which are only theoretical. AR, has shown a 37% reduction in time spent training and a 75% reduction in time required to document work instructions.
Virtual Reality Training Solutions on the other hand offers you a fully immersive experience. It creates a simulated environment, making you a part of the construction site or plant. This saves cost of transporting your employees to each on-site location for training.
Read more: Artificial Emotional Intelligence: Yet another Replacement of Humans
How VR prepares and trains your company for emergencies: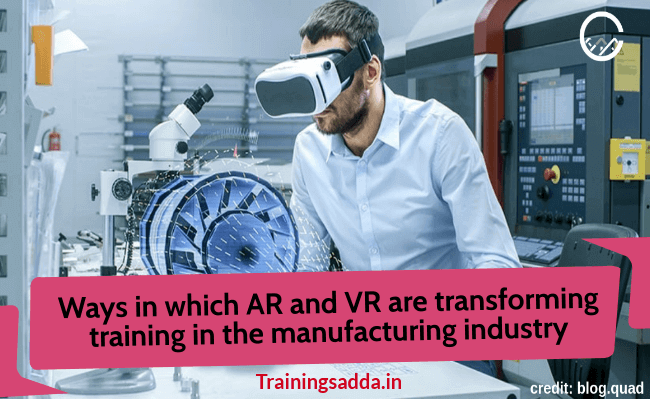 Under any tense situation, it is always best to stay prepared for every kind of calamity. However, in industries such as these, there could be any kind of mishap such as a chemical leak, runaway reaction, or even an explosion. Operators and Quality engineers need to be well equipped for equipment upgrades, product change, and take quick actions to mitigate such events.
Must know: Best 8 Upcoming Technology To See in 2019
Virtual Reality Training is a blessing to the manufacturing industry. With the immersive experience, operators can role-paly and demonstrate response scenarios during such events. The benefit is that this method can be implemented even if the site is shut for renovation or under construction in any closed area with the right equipment's. This reduces the risk of putting the staff under physical danger.
VR and AR will attract the millennial technology-cringed generation to create a better tomorrow. They will be mastered in the manufacturing industry with the best training and on boarding experience. Embracing today's technology will ensure a safe workforce generation.
Vision of Automobile Manufacturers
The competition between manufacturers to grow driver-less solutions is already increasing between Ford, Porsche, Telsa and Mercedes Benz. The possible of developing AR solutions for cars is never-ending, especially due to its reside interactive nature that can make people imagine and occurrence things that are otherwise complicated.
Read more: What is Google Pay or TEZ App and How To Use It?
Mercedes Benz launched its most awaited AR built a mobile app called AskMercedes that enable you to totally be aware of your vehicle on your phone screen. You just require putting mobile in car interiors and the app displays the live in turn on your mobile screen. AR would play a major role in the car showrooms to quick look different options and description available in a car without actually having all cars displayed there. This would be an added advantage for high-end car manufacturers who offer diverse options with a number of customizations for their cars.
How Volkswagen gained better outcomes by using AR/VR?
1 – Mobile Augmented Reality
Service support for XL1 model gets a total makeover with the Mobile Augmented Reality Technical Assistance (MARTA tool). The XL1 is a state of art vehicle and this factor is extended to its service support function as well. All the service personnel will have to do is, point out the MARTA application on their tablet on car. This will overlay the car image and augment it with actual parts in 3D. It will detail out the tools to be used, assembly configurations, and test specifications needed to service a particular car.
2 – Spatial Reality
Traditionally, hardware models are used in the pre-production process as they provide better estimation of forms, curves, and geometries. Virtual models are scaled down to the display size and does not provide a precise estimation of the reality.
Read more: Important Things You Need to Learn About AI
With Spatial AR, the virtual data is displayed in actual size and scope using a projector on an actual car model. If the designer could capture proper projector angle, ambient lighting, and geometry and material of the model, then precise analysis of virtual data can be overlaid on the car model.
3 – Manufacturing process
With thousands of parts across multiple brands, proficient processes and close collaboration matter a lot. VR has the probability to overcome challenges in these areas. Their digital reality hub is geared to make VR for employees, suppliers, partners, and distributors. Their VR training programs employed in factories worldwide with the help of process experts, trainers, and developers. In this workflow, uploading of new content and site-wise deployment has been made more effective.
As an outcome of these in-depth and immersive VR training and collaboration programs, Volkswagen continues clocking higher revenue growth worldwide. Its primary market, Europe, has seen a spurt in revenues from €132.54 billion (2015) to €138.08 billion (2016) to €142.75 billion (2017).
How CHRP-INDIA can help your business:
CHRP-INDIA has been providing Virtual Reality Applications for Automotive design and Automotive Industry since 2013. CHRP-INDIA's main strength is "Team Work". We had a team with deep domain experience in delivering gaming and non-gaming solutions. We offer custom AR/VR/MR solutions for training personnel on how to handle machinery/equipment, safety procedures, troubleshooting and maintenance procedure, etc. Our prime choice of developing AR/VR/MR Solutions are through UNITY Engine for multiple deliveries.
Through our ample research in the last 5 years, we have acquired field experience and know-how of the emerging technologies and hardware platforms to design tailor-made AR/VR/MR solutions for Industries.
Comments
0 comments