Business
Tips to Start a Plastic Container Manufacturing Business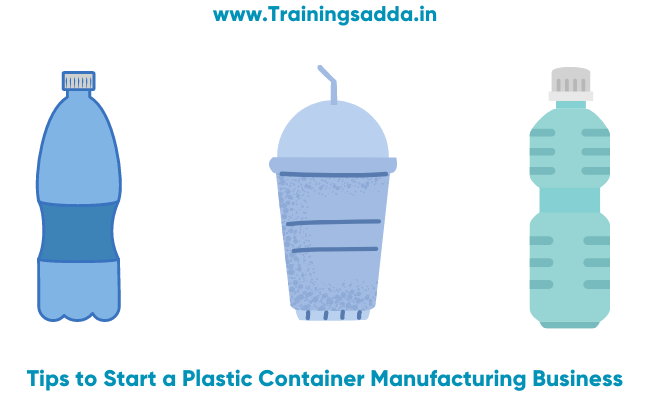 Looking for a business whose products or services are needed in our daily lives? Or a business whose products can be purchased by both the rich and the poor? Maybe a business that is less competitive in your location?
Starting a plastic container manufacturing company can answer all the above questions. This industry necessitates a significant amount of effort, dedication, and, most importantly, passion.
Plastic container manufacturing is a lucrative industry. An aspiring entrepreneur with the necessary startup capital can successfully launch and grow a business from the ground up to profitability.
If you're wondering how to sell plastic containers or even how to sell plastic containers online, this article will teach you exactly what you need to know about the Plastic Container Manufacturing Business.
Learn more: How To Open a Cosmetics and Perfume Store?
How To Start a Plastic Container Manufacturing Business?
1. Analyze Top Business Plans
You already know that writing a business plan is the most important thing you can do. It plays an important part for your new business or company if you've done research thoroughly.
Although it may appear to be an unnecessary formality, your plastic containers company's business plan is a document that will shape your future goals and strategies.
Furthermore, a good business plan will assist you in avoiding common startup blunders. There are many startups that become rudderless. Such businesses are incapable of executing decision-making processes on a consistent basis. The case happens in the absence of a solid business plan.
Whereas committed business planners rely on their plans to guide all of their decision-making and short-term planning efforts.
2. Observe Your Competition
Before starting a plastic container business in your area, consider how you will fit into the competitive landscape. To get a list of local competitors in your city, you can easily use localized keywords.
Read more: How To Do Competitor Research for Your Business?
Also, you can enter your city, state, and zip code to get a list of plastic container companies in your area. The next important thing to consider is whether or not the local market is big enough to support another plastic container company? If not, you'd better be certain that you're outperforming the competition.
3. Talk to Successful Business Owners within Your Niche
After you've evaluated the competition, it's a good idea to learn as much as you can from someone who is already in the business. You're being overly optimistic if you believe your local competitors will give you advice. They have no desire to assist you in becoming a better competitor.
Fortunately, an owner of plastic container business in another town might be willing to share their entrepreneurial wisdom with you. Only if you don't compete with them in their area. Many business owners are eager to help new entrepreneurs. It may take some time to find an entrepreneur willing to talk, but the effort is well worth it.
Know more: 7 Tech Tools For Solopreneurs Swear By
The key question, in this case, is, how do you find someone who owns a plastic container company? Keep in mind that he needs to be from another city.
4. Decide on Buying or Launching a Plastic Container Manufacturing Business
Sad to say, many inexperienced plastic containers business entrepreneurs approach ownership with the mistaken idea. It is; a startup is their only option when they could also pursue a business acquisition.
Unless you have compelling reasons to start a new business, purchasing an existing plastic container company may be a better option.
Established plastic container businesses already have the resources and processes that new business owners struggle to obtain. If you are diligent in your search for the right acquisition prospect, you may be able to use a business buying strategy. It will help you to quickly propel yourself into an industry leadership position.
5. Forget About Franchise Rule Out
If you choose franchising and leverage their successful brand and track record, your chances of achieving your top business goals immediately improve.
Before starting a plastic container business, you should look into franchising to see if it can help you on your entrepreneurial journey.
6. Decide on the Type of Plastic
Before delving into the specific requirements of a plastic container manufacturing plant, it is critical to first determine the type of plastic that will be produced. There are numerous plastic products on the market today, as well as numerous competitors for the same product.
It is necessary to carefully plan and research the market in order to determine which areas have a shortage or a need for plastic products. When deciding what type of product to make, one must also consider the skill level required to make that product.
Find more: Workers Risk Assessment – The Future of The Manufacturing Industry
Do you have the necessary experience in plastic manufacturing to create such a product?
7. Opt for the Right Manufacturing Machine Repair
A custom one-step injection device that combines preform moulding and stretch moulding is recommended for small businesses and newcomers to plastic container manufacturing. Such machines are less expensive for small runs and work better with custom bottle moulds.
A single-step moulding device for plastic manufacturing can now be purchased at a reasonable price from factories in the Far East that specialise in this type of machinery. Used machinery is also available.
It may be the most cost-effective way for new manufacturers to test the market for their custom containers. According to many top plastic injection molding service providers, this is the best option if you are new in the industry.
8. Recognize Total Manufacturing Cost
The cost of manufacturing is determined by the type of plastic part that you wish to produce. It is necessary to effectively allocate the budget in all business departments.
Calculate the high mould cost, the setup cost, the price per part, the production cost, the material cost, and the distribution cost. Choose a manufacturing process that is appropriate for your business investment.
Final Thoughts
The plastic container manufacturing industry is rapidly expanding. To enter this industry, it is recommended that you follow the basic business steps for starting a successful manufacturing business. As a result, it can assist you in laying a solid foundation for your company.
Comments
0 comments