Career Guidance
Education
Prepare Yourself For University in International High School
Preparation Tips For University in International High School
At EF Academy New York, students do not only explore different subjects and courses in order to discover their passion but as well as they will get prepared for university. High school and college determine the future of a person up to an extent. It takes time, work and efforts to build a career that is why it is very important to start planning at a very young age instead of preparing at last moments.
Preparation Tips For University in International High School:
Learn academic reading and writing
At EF academy New York International boarding high school, you can improve your reading and critical thinking skills. Not just reading skills, but these classes will improve your writing skills. Writing skills emphasis your grammatical accuracy, fluency, clarity of the content and offers you skills to develop paragraphs effectively. You should also learn the research process that includes proper citations, summary, phrasing and so on. It will help you in expanding your vocabulary so that you will use lots of new words in your language and in your writing. You will gain confidence while reading and writing comprehensions. Therefore, international school allows you to learn academic reading as well as writing that will enhance your confidence in the future.
Learn academic speaking and listening
Of course, as reading and writing are important, in a similar way, speaking and listening are equally important or even more important. Develop the confidence of speaking and listening that you actively need in future.
It will improve your academic note-making abilities by learning to listen.
It enhances your capability to discuss, argues, interacts and debates.
You will gain confidence in preparing oral reports that will help you in university.
It will enhance the interview skills that help you in clearing university interviews.
It will expand your vocabulary as well as reduces grammatical errors in your speaking. It makes your speaking effective and influencing that will help you in the future.
Read more: The CBSE Class 12th Result 2019 Analysis
Creativity and critical thinking
Creativity is one of the most important factors that will decide your future. Here you will learn to use strategies and how to build them as well. Overall growth and development of critical thinking and creativity will help you in your future. This will improve your problem-solving skills and will add this great skill in your skill set.
You will have a deeper understanding of critical thinking that will help you in applying a number of strategies and skills.
It will develop critical thinking skills.
English language practice
International high schools do not only enhance your English by speaking with your classmates but as well as there are special classes of English for non-English background students to prepare them for university admissions. You know that the university plays an important role in deciding one's future. According to a report, attending international high school for two years allows you to hone the English language skills that will help you in the future.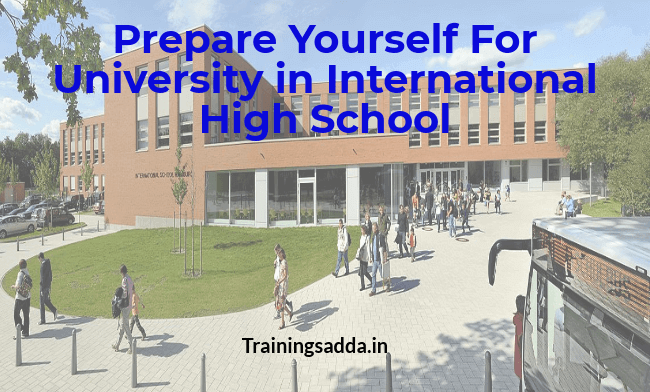 Class participation and debates
In university, a discussion between professors and students plays an important role. In international high schools, class participation allows you to speak out, it will enhance your confidence in keeping your views in front of others. This class participation will help you in university to speak out. Debates and class prepare you at a very young age to have a successful career ahead.
Read more: Personal Branding Tips for Management Graduates
Keep an open mind about majors
Yes, your society, environment plays an important role in making you what you are today. Most of the universities are based on one specific field. In a school with the help of your teachers and counselors, you can decide which subject could be a great one for you and what are your interests and all.  Get advice about the potential majors to prepare yourself for the future.
Expand extracurricular activities
Along with academics, extracurricular activities play an important role. It will help you in learning new skills and boosting your professional resumes, therefore, you will get admission to your dream university.
Find more: Top 5 Countries To Lead International Students Recruitment By 2021
Wrapping it all up!!!
EF Academy New York is an international high school that will prepare you for university and future ahead. The school does not make you learn academics but as well as enhance your critical thinking, confidence and much more that will help you in university. So get ready to have a brighter future if you start to plan today.
Comments
0 comments