Technology
How to Convert Excel File to Outlook Address Book Step By Step
Steps To Convert Excel File To Outlook Address Book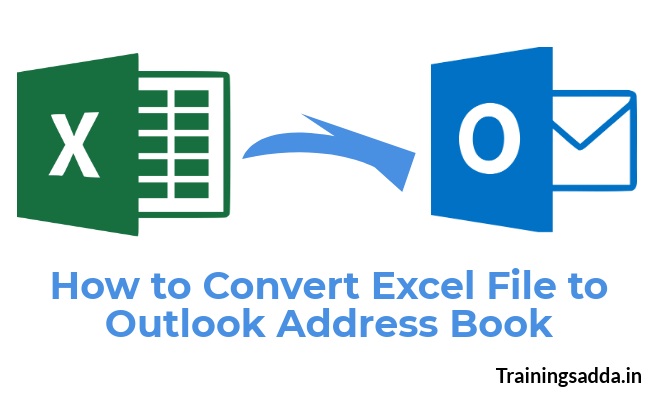 "I am facing trouble while I am converting my MS Excel spreadsheet to an Outlook address book (contacts group). Basically, I tried so many times to perform conversion using a few methods. But, when MS Outlook is assumed to mapping the columns, it only displays a single column in the CSV file. I think it means, I do not map the data in an appropriate way. I have to export approx 2000+ from Excel to MS Outlook. So, please suggest me an efficient method to convert Excel file to Outlook address book instantly. Any suggestions would be kindly appreciated. Thanks a ton."
Read more: Can You Open an OST File in Outlook? Get Your Answer
How to Convert Excel File to Outlook Address Book- A Perfect Guide to Know:
Convert Excel File to Outlook Address Book Flawlessly:
Here, we come up with an efficient method to import Excel file to Outlook address book (distribution list). It is a third-party application named as Excel to Outlook converter. With the help of this amazing software, you can easily convert Excel contacts to Outlook without any data loss. This software is equipped with advanced features and functionalities, which helps to provide an instant conversion procedure. Mainly, this facilitates an understandable user interface. So, a non-technical can also avail it without any hassle. Additionally, it does not associate with any kind of data loss or data damage issue. It migrates spreadsheet contacts to Outlook without any data loss.
Know more: Steps To Take Backup Of Outlook EMails
Moreover, it exports contacts from an Excel file into MS Outlook contacts group in bulk. And provides an option to create a distribution list in Outlook before you export Excel file to Outlook address book. This tool allows excluding duplicate contacts during Excel to Outlook conversion. Subsequently, this Excel XLS to Outlook converter is compatible with all version of Windows OS and MS Outlook. So, for utilizing this fabulous tool, you can visit its official web page.
Are You Looking For Free Alternative Technique?
We know, what our users want. Don't worry! We also mentioned in the oncoming segment the free solution to convert Excel file to the Outlook address book. Mainly, this manual way is partitioned into two steps. Simply, follow both the steps in a sequential manner to perform a migration process properly. Let's begin:
Find more: Steps to Backup Zimbra Mailbox and Convert Exported Zimbra TGZ
#1: Export Excel File as CSV Format
Basically, to save Excel contacts to Outlook address book. Initially, you have to save the XLS file into CSV file format. After that, import the outcome CSV into Outlook. To do so, follow the below-listed steps properly:
Firstly, open worksheet with all contacts and information in an Excel spreadsheet
Now, choose File menu option then select Save As option.
Then, choose the preferred location to save resultant files.
Afterward, you have to select CSV option, under Save As Type drop-down menu
Here, click on the Save button.
Lastly, click on the OK button, then a message box will prompt into your screen. Simply, click on OK
Know more: How to Recover Pen Drive Data When It Shows Empty
#2: Import Resultant CSV to MS Outlook
After exporting XLS to CSV file format now, you have to import the output CSV file into MS Outlook application. Completing these two consecutive steps will help you to import or convert Excel file to Outlook address book for free. So, follow the below-explained steps to transfer contacts from Excel file to Outlook contacts:
First of all, select the File option from Outlook ribbon.
Select, Open & Export and then Import/Export option
Now, choose Import from another program or file option then hit on Next
Here, select choose Comma Separated Value (CSV) and hit on Next button to proceed forward.
Subsequently, click on Next to select the desired folder for your converted contacts. Here, either you opt a different folder or generate a new one.
Hit on Next button.
Now, ensure that you have checked the box next to Import Addressbook.csv (this is assuming as the file name) is checked or not.
At last, hit on the Finish button, to terminate the process to convert Excel file to Outlook address book.
Read more: Best Tips To Buy The Best Laptop
Method 2: Convert Excel Contacts to Outlook Using MS Excel 97-2003 Option
If in case, you are still unable to import Excel file to Outlook address book contacts after utilizing the above-stated steps. So, you can also try this technique. If you need to perform the conversion process using this method so, simply follow the below-outlined steps perfectly:
Primarily, select the File tab from MS Outlook ribbon.
Then, click on Open and Import. This will automatically start a window
After that, in the Import/Export window, you have to click on Import from another program or file. And then click on Next.
Here, select Microsoft Excel 97-2003 option
Additionally, browse MS Excel file in the Import a File box, then double-click to opt it.
Now, hit on next to proceed ahead.
Select, the Contacts folder and click on Next
Finally, choose the Finish option to end up the conversion process adequately.
Read more: How To Setup Netgear WiFi Range Extender like a Professional
Special Note! The above-listed technique to convert Excel file to Outlook address book is not supported the MS Outlook versions 2013, 2016, 2019 versions. Moreover, it is only imported MS Excel file from MS Excel version 97-2003. In case, of other versions, this method is not applicable. So, it is better to go with an expert solution.
Time to Conclude:
These days, most of the users are looking for an instant way to convert Excel file to Outlook address book without causing any data damage. We took this issue into consideration, and come up with effective techniques to transfer excel spreadsheet to Outlook distribution list regardless of MS Outlook version and Windows OS of the user. Also the blog also discusses the solution to export Excel file contacts as free. So, with the help of these methods, a user can easily perform the conversion process from Excel contacts to Outlook. Mainly, we have discussed the manual and professional way to import Excel file contacts to Outlook contacts group efficiently without any data loss. Thus, a user can choose any of them as per their requirement.
Find more: Online Vs Offline File Converters – The Advantages and Disadvantages
Comments
0 comments