The internet has been a prominent source for students, especially college going learners, to simplify their obtaining solutions. Many sites like Meritnation, Exam Fear 101, Chegg, Tutor Online and others provided the student with necessary academic solutions and other guiding material to build their academics. Some of these websites are paid, while some offer accessible free material that proves to be convenient for the student pocket money. One such was a Textsheet. However, Textsheet was down ironically due to its massive popularity. Since then, many students are in search of alternatives to textsheet.
Know more: Essential Devices For Your Successful Learning
What happened to the textsheet? Which are alternative sites like textsheet? If you are thinking about these questions, you are landed on the correct page.
What is a Textsheet?
Textsheet was an open-source academics boosting website. It was a learning and skilling platform eligible to the students of almost all domains. It helped students to gain their queries resolved and their exercises solved.
The Textsheet website came up with a search text box. Students need to enter the URL of a particular course, a simple question or a link to the specific question. Then and then the textsheet matches the database records over their terminal and also through the internet. After the successful analysis, Textsheet was made to present the appropriate solutions to the students.
Prominent Features that made Textsheet a wonder were as follows:
Open Source platform, i.e. Completely Free of cost.
Easy to find Solution just by putting the query or question in the search text box.
No need to buy subscriptions from costlier solution providers like Chegg.
Provided not only solutions but tips and tricks to solve similar questions.
A versatile learning and academics boosting platform.
Within a short period, the site reached many users and was trending those days until the authorized teams recognized the source of information being served to the viewers.
What happened to the Textsheet?
Textsheet got immense popularity during those times. However, this popularity brought Textsheet on the radar of copyright authorities. It was found the Textsheet was using the questions, solutions and data from other portals like Chegg and was providing them for free on its site.
For information, Sites like Chegg provide solutions and guidelines for projects, academics and training with a high subscription cost. When authorities found this defect in the Textsheet, this happened in 2019 when Chegg authorities filed the DMCA against the textsheet. Students wereturned helpless at that stage, where the only option left with them was to purchase the modules at higher costs.
See here: 10 of The Best Virtual Classroom Software in 2021
Textsheet not working Reddit
Reddit confirmed that the free resource access site of Chegg Textsheet would not be accessible anymore. It happened due to the registration of a DMCA report against Textsheet by the Chegg authorities.
Textsheet enables students to complete their homework, assignments, projects and other academic requirements easily by providing open-source access to Chegg questionnaires. The popularity of Textsheet brought its demise into action.
See source information here: Textsheet not working reddit
Textsheet Chegg
Chegg initiated the approach of the textsheet the rivalry platform due to whose commands. Chegg started providing some free of cost features and academic functionalities to the students. It helped Chegg to take the place of a leading alternative to Textsheet. These free features included certain limits which could be unlocked using subscriptions.
Top 15 sites for Textsheet Alternative
The fifteen best Alternatives for Textsheet are as follows:
1. Coursera
Coursera provides the access to the professionalised courses related to programmings and other certifications. With both paid and unpaid courses Coursera helps learners to proclaim the skill.
Coursera have collaborated with various universities across the globe. With its free courses Coursera assures it's learners that learning isn't difficult as it seems and language won't be a barrier in any way.
The advanced courses are categorised for the paid packages as they also include the weighing certification recognised across many continents. Coursera provides the learner with adequate learning materials and a well organised course layout for better understanding.
Know more: Keys to Leadership Development in the Digital Age
2. Udemy
Similar to Coursera this also brings out the professional courses, however it adds a bit of personality development and creative thinking in introductory stuff for learners.
Udemy is versatile enough to engage learners with a wide range of categories including coding, cooking, English speaking, foreign languages, business development, environmental problem solving and others. Therefore udemy is definitely amongst the assuring educational web content providers.
3. Quizlet
Quizlet provides an interactive way of learning by including the quizzes, images, games etc. This online exploring and learning platform is developed by Andrew Sutherland. This portal usually works in an interactive mode including the wider range of interactive modules.
However to be specific the different modes included in Quizlet are as follows:
Long term learning more
Speller mode
Gravity mode
Flash card mode
Scatter mode
Others.
The games and activities makes it easy to learn and explore definitions and functionalities together with friends and family as well.
4. SparkNotes
SparkNotes made it easy to learn literature, geography, english, maths, science and other school subjects on a self paced timelines.
Sparknotes doesn't charge a single penny from the users to be online and use their resources. Certainly the main earning propaganda of sparknotes is to earn revenue through advertising to be more precise bringing traffic to their site.
Musr read: How To Become A Teacher In India?
Therefore just like TextSheet sparknotes provides a promising alternative. It enables access to solutions to college and schools curriculum. Academics can certainly become strong accessing sparknotes for any student. If you weren't aware about this, definitely check for the site.
5. CrazyforStudy
CrazyforStudy is specifically made for study lovers. The site gives detailed explanations for every query. CFS is considered a new academic search engine for learners or students.
The portal includes more than 50 million textbook databases and their solutions. One could search for textbooks or book using its ISBN number, author name and simply using the name of the book.
Textbooks and their solutions related to LAW, Science, Engineering, Management, Aerospace and other domains are also included in crazy for study. Students love and prefer the site due to its easy outlook and preferred detailed solution information provided and the lower cost of the paid versions.
See more: The Importance of the English Speaking
6. Studylib
Studylib provides excessive range of content availability. Cognitive science and research contributed to build a better alternative to TextSheet enabling the portal to assist students with their homework, assignment and projects indeed.
The objective behind establishment was to make certain the learning apped of the students increases and should retain in their mind for a longer time. Sciences have proved an interactive approach helps remembering concepts for long.
Therefore studylib adopted advanced flash cards. These intelligent flashcards could be created by anybody to address their knowledge. Certainly, the educational library at studylib has massive collection of rare and common books for the people.
Check this: 25 Best Story Books For Kindergarten Kids
7. Paperhelp
Paperhelp provides solutions to previously appeared exam papers. Paperhelp enables the access of different documented works for the reference purpose and provides the learner with a clear mind to create their own. Various technical papers related to degrees like engineering and management to the bio reports, lab testimonials paperhelp provide them all.
The different case studies, research papers, essays, poems, renowned content of famous writers, and creative writing is made available for the learners. Therefore, paperhelp definitely is an appropriate alternative for TextSheet solutions to documented work. The paperhelp website clearly helps the viewers to route through the path and get desired content on screen.
8. Chegg
Chegg is a wholesale platform to get the proper solutions to our assignments and queries. Chegg paid subscription assures the complete guidance and solution from your curriculum, making its existence vital for students to ease the homework pressure.
Along with this chegg provides a complete dashboard to analyse the status of completion and timely use of the site. The site is so responsive and easy to use for the learners.
Read more: Effective Digital Tools Aid in Student Engagement in Classrooms
9. College board
College board helps college students to learn and listen to repetitive concepts in their own timeline. The test schedule of the college board enables students to timely prepare for their assignments and projects. College board is one of the best portals to manage the study, creativity and other schedules properly.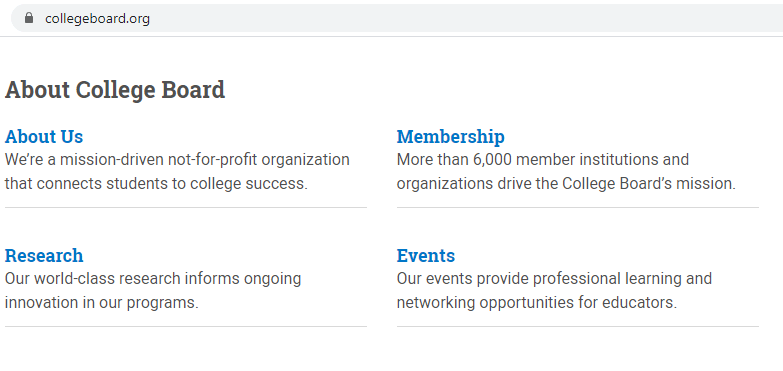 10. Great Learning
Great Learning is the most economic course provider in the region. The subscriptions are at lower rates and easy to afford. It is amongst the platform that assists with the processional courses that enables one to excel in their career.
The professional courses are made available from the recognised and versatile tutors across the globe. More than 140 countries are now part of great learning in one or the other way therefore it's evident the diverse education brought together on your e -devices.
Many students from great learning have secured employment in high graded companies like Amazon, Disney etc. Coding, finance, business management are all covered under a great learning roof.
Do you know about the 20 Education Apps for Android and iOS You Cannot Miss?
11. Scholastic
Scholastic is typically based on CBSE board curriculum. It is specifically designed to improve the reading skills of the enrolled individual.
Scholastic provide opportunities for both teachers and students to put their hands on learning and teaching. Many scholastic books have provided intense learnings related to values, personality development and others. Also the reading aloud, reading in mind, proper pronunciation are considered for the improvement purpose here.
Scholastic aims at improving the reading and understanding level of a person solely by himself. It completely helps the person with every material and automation required.
12. Edx
Edx is a globally based learning platform that enables local learners to get education from the foreign lecturers and their universities directly. Open edx enables the organisations, institutions and universities to anchor their own course through the network of edx platforms.
Therefore edx is the source of direct learning from top universities across the globe. Open edx assures the trusted certifications and enrollments. The fees of the courses are also comparatively less to the offline learning sessions.
Therefore this alternative to TextSheet definitely opens the door of international studies and accessing the material for the budding Learners.
13. Futurelearn
Futurelearn is a platform that delivers exclusive learning solutions that could help students to think, vision and interpret.
On futurelearn learner is provided with all necessary features that could avoid him or her from getting distracted and creating a reason for not continuing the work. Bookmarking the page, picking up from where you left and others enable ease of access to the viewer.
The consistency and a proper layout design of learning status is displayed properly to keep learner motivated throughout the process. The completed courses, certification and others are displayed on the dashboard page to track the development. Each protocol helps learner to stay aligned and therefore this could be better alternative to TextSheet.
Know more: Strategies on How to Improve Your Writing Skills in Any Subject
14. Skillshare
Skillshare enables students to create a community to discuss and learn. Skill share is the wider platform which comprises several benefits including the team management and learning. Skillshare learners could interact with their colleagues on the platform.
A complete database comprising of content of different categories and modules are made accessible to the learners to enrich their skillset. Along with these content features, Skillshare app also gives feasibility in use of devices and their resolution.
Features like casting and screen sharing are also included. Groups, organisational meets, workshops could be also arranged on Skillshare platform. Therefore it definitely could be an TextSheet alternatives for the learners.
Also know about the Top 10 Technologies Used To Teach Students.
15. Coursehero
Coursehero's haven't received many signups till now. However, the management is trying its best to bring the best course content. We can expect minimal course rates here.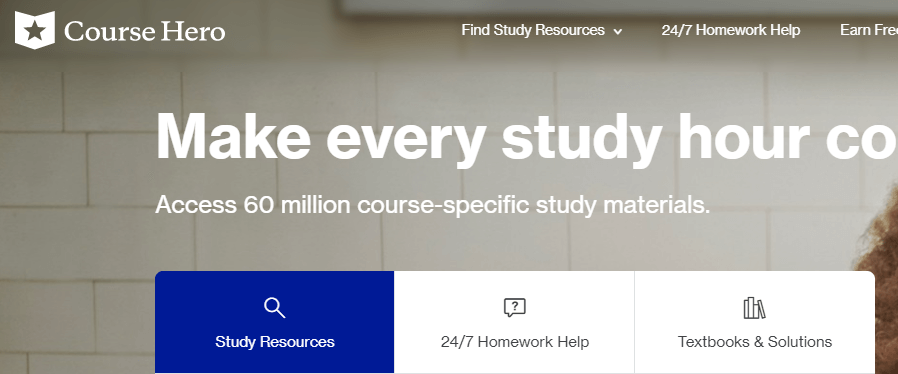 Conclusion:
Well, with the end of Textsheet, the idea free resource platform vanished. However, now many textsheet alternatives help the learners resolve their doubts. Indeed, none of them provides unlimited free usage but allows to surf through few functionalities for free of cost.
There are various packages available on these platforms that make users decide their requirements and invest accordingly. Authorization is necessary, and a single deficiency leads to the demise of the Textsheet.
FAQs
1. How does the Textsheet Works?
Answer: Textsheets collected the data, precisely the solutions and assignments from the competitive sites, to mention indeed we can say Chegg. A user needs to sign up for a textsheet free of cost. Then simply by inserting the query text in the search box, Textsheet provided the essential solutions to the viewers/learners.
Know more: Best 10 Trending English Speaking Mobile Apps
2. Why is Textsheet not working?
Answer: Textsheet skipped a few of its mandatory guidelines related to authorization and copywriting while putting its content over the internet. Therefore, as per the regulation, the Textsheet was brought down from the internet despite having tremendous traffic. And Since then it's not working. However, many textsheet alternatives could help you resolve your doubts.
3. What to use instead of Textsheet?
Answer: Many sites are standing as alternatives to Textsheet. However, none of them provides full free access like Textsheet. You can refer to Udemy, Coursera, edx for reference as these are certified and trusted sites for investing.
4. Why is Textsheet down?
Answer: Textsheet came down due to its violation of guidelines and rules related to copying data and information from the competitive site Chegg and others. Authorities were responsible for the detection of defects and bringing down Textsheet from the serve
Comments
0 comments