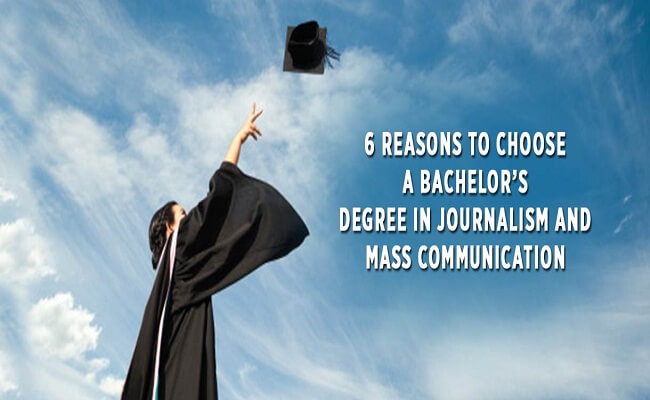 In this brimming continent of doctors and engineers, you choosing a Bachelor in Journalism and Mass Communication is not going to do anyone any harm. Yes, we understand it is tough to make your parents understand your passion. But do not worry, we are here to help you. We have listed six pros of a career in journalism and mass communication. They should absolutely help you in enlightening your parents as well as give you insight info on the industry.
Read more: Pursue MBBS in China Over Any Other Country!!! Why?
As the global trends in the world of education are undergoing a change, radical subjects like journalism and mass communication have been garnering a lot of attention of the students lately, leaving the old cliches of mainstream schooling way behind. The sudden explosion of communication technology globally and media globally fuels the speeding up of this process.
With the introduction of a large number of social platforms being added to the information bandwagon with the existing ones like newspapers, magazines and even the audiovisual media, the modern era is witnessing a demand of professionals in fields like journalism and mass communication.
So, what does this mean? Well, it can suggest only one thing. It makes journalism and mass communication a highly well off the profession.
Read this article: Personal Branding Tips for Management Graduates
If you are pursuing a Bachelor of Journalism and Mass Communication, you are already halfway there on your goal. And for starters, if you are unsure about why you should actually pursue this course, we are here to ponder upon a few aspects which have made this field a hugely demanded and one of the most enviable domains.
Reasons To Choose A Bachelor's Degree in Journalism and Mass Communication
1. Opportunity to expand your network
One of the most integral parts of our social lives is networking. Having a really good network    with people within your domain make sure that you get a smoother passage of information from time to time. In case you are pursuing a degree program in journalism and mass communication, the regular routine which you would have will automatically include interactions with different broadcasting units, print media and a lot more. All of them are impactful and are deemed to be important in the social frame. You would also be exposed to a lot of field experiences and would get a whole new spectrum of the entire pedagogy in this course. It would also include travelling to places which essentially is one of the fundamentals of this course. Therefore, enrolling yourself for the same course opens your door to a broader horizon.
Read more: Top 5 Countries To Lead International Students Recruitment By 2021
2. 'Free to Express' Platform
Reframing a real incidence into a written one is such a skill which the studying of this course helps a student with. If you are creative and can articulate the same in your writings, you can work wonders with your pen. One can also inculcate an individual opinion and views over any kind of topic by jotting down any kind of incidence, be it social, political or economical, to make it more relatable. If everything goes, well, a few years down the line might even invite you to your very own shows on visual or audio media to depict your personal thoughts for the benefit of the masses. Such kind of elements makes this course one of the best as you have a platform to express your voice.
3. You are provided with multiple career options
As we all know, the media is one of the biggest industries and also accommodates multiple branches. Studying the course of journalism and mass communication is going to reduce the efforts of a student to try to get accommodates within a specified circle of opportunities. Rather, it would open a new horizon for students with multiple options to choose from and get saturated into.
The Publishing houses, web media, press, advertising, and marketing are some such branches of this course that a student could easily be absorbed into any one of these after the successful completion of their course. This program also lends students with multiple opportunities to pave their way into fields like Photography, film making, journalists, film critics, communication experts and a lot more.
Find more details: Top 5 Best Master in Finance Programs to Boost Your Career in 2019-20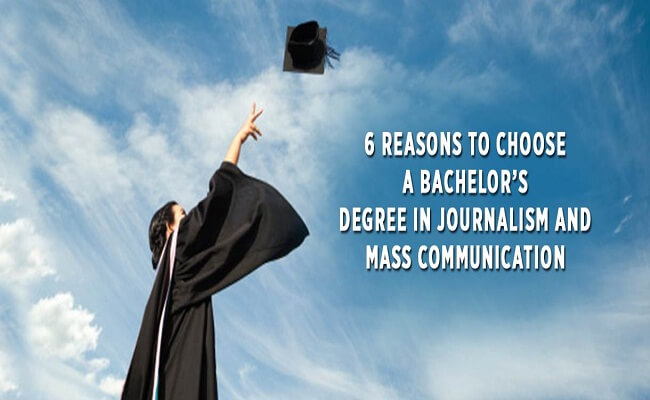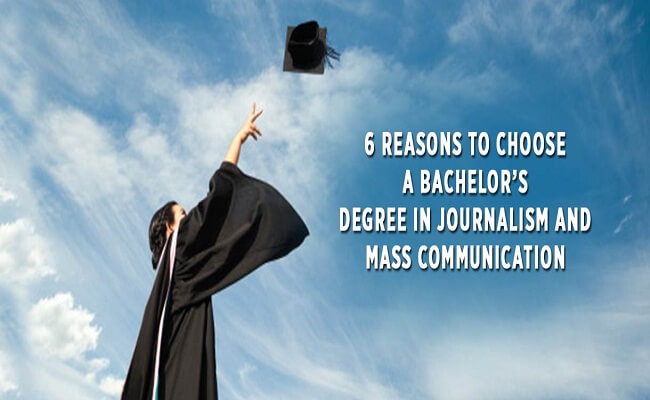 4. A taste of multiple opportunities to explore and travel
Travelling is a fun thing to do for sure and journalism and mass communication makes sure that you get plenty of such opportunities. The nature of this course requires mobility on a frequent basis. In today's internet driven world, the information is passed too rapidly and hence, you need to ensure your presence at the venue with an immediate effect. This kind of practice is going to keep you updated and would open your inner mind with a variety of experiences on the way.
5. Better than average salary packages
Quite dissimilar than most of the other professions, may usually pay a good amount of money to the entry-level associates as well. The average salary of even a newcomer ranges from INR 30,000 to 2 lacs per month which is much better with respect to other industries in today's age. With a lot of years of experience, the salary is likely to go much up and much better than most of the industry packages for the same level of experienced personnel. So, if journalism and mass communication is a course which you are longing for, don't hesitate to make a smart choice.
Read more: Top 20 Best MBA Distance Learning Colleges in India
6. A fun and the creative program overall
Genuinely speaking, you would find the mass communication students in a jovial mood most of the times, because their faculty is equally interactive and focuses on loving and being creative with their students. The focus on developing such classes who have lively discussions and debates along with making sure that every student takes part in the same and develops his personality the way modern age wants him to. You would also find faculty members who are very helpful and generally try to avoid being too strict with the students. Majors of mass communication are fun to deal with as well and help out the juniors at every point of time.
Read more: Top 10 IT Certifications In Demand Today 2018-19
So, these were some of the major reasons why you should actually consider pursuing a bachelor of journalism and mass communication.
Author Bio:
Drashti Shah is a content creator and senior marketer at NIMCJ. She enjoys reading and writing to spread knowledge to the reader.
(https://www.facebook.com/NIMCJ.Official/)
(https://twitter.com/nimcjofficial)
(http://www.pinterest.com/nimcjofficial/)
(https://www.youtube.com/user/nimcjofficial)
(https://www.instagram.com/nimcj.official/)
Comments
0 comments