Technology
Factors to Consider Before Choosing In-Ear-Headphones
5 Tips and Tricks To Buying The Right Earphones
After thorough research, I have listed 5 most important factors that should be considered before buying your gadget. Earphones can be an important motivator for your workout and a great friend at travelling.
Every person have various preferences, some people buy earphones just for workout and gym. They don't care much about the audio quality but they want extreme comfort and fitness. But on the other hand audiophiles are more into the audio quality. At last it just comes to personal preference.
Choosing the best earphones is not the as important as choosing the right earphones. Earphones are divided into many categories like for workout, for running, for music and for gaming.
So, the question is, why do you want to buy earphone?
The answer to this question will give you the right idea of what to buy and from what category.
5 Tips and Tricks To Buying The Right Earphones
Form, Comfort and size:
People usually choose earphone by considering these three major factors.
Many people consider style more than anything while choosing earphones and that's why many organizations are trying to revolutionize its form and functionality. There are three types of earphones on the basis of comfort level and size. In-ear, On-ear and over-ear.
Read more: Valuable Tips To Buy The Best Laptop
However, in-ear is self-explanatory but it is actually the single most innovative area companies are trying to work on for enhancement. On-ear don't not fully enclose the ear and it's simply rest on the top of the ear. Over-ear covers the whole ear and the quality of sound and bass is better than others. It may not be portable but other expects make it excellent.
Wired or Wireless
Choosing between wired and wireless is all about the preference of the person. One may like wireless because it's comfortable and portable and you don't need to worry about the wires and nowadays every company that produces wireless earphone uses APTX technology which make the sound and bass quality of earphones really nice plus battery health up to hours and days.
On another hand many people like wired earphones because they are not comfortable with wireless and although there are many excellent earphones in the market. One may not use wireless ear phone while exercising but some people preferred wired earphone at the same time because they don't have time for charging their earphones and it can be connect to any device that doesn't have Bluetooth.
Read more: Overview UMIDIGI A1 Pro Smartphone Specifications
Replaceable and Dual Cables
There are ear phones whose wires are replaceable if it is not done by human and in warranty meanwhile it also works through Bluetooth so this option may help you in future while buying ear phones. Some earphones have both the option but the life time is not like the one with having one option either wired or wireless so go for the best one. I myself used wired headphones although it is hard to carry but my preference allow me to use headphones because for my own happiness.
Read more: Choose An Armor Cases That Will Protect iPhone 7 Screen
Audio Quality
Before buying earphones, you must consider the audio quality of the earphones. It's the most important feature of the earphones. Some of the earphones have a great design, excellent connectivity and great comfort but the sound they produce is poor. On the other hand some may have poor design or poor comfort but they have excellent audio quality.
In audio quality you have to consider the Low's, Mids and High frequencies. Also you need to consider if the sound is detailed or details are missing. The Soundstage is also an important feature of the earphones.
Learn more: Best Camera Phones That Will Enhance Your Photography Experience
Control and Pairing
If you are using wired earphones then its control and pairing buttons are easy to use and one can manually control there earphones through those buttons easily.
In case of wireless earphones its little difficult for control and pairing if it is lot more enhance and digital but for controlling and pairing you have to take the earphone out of your ears or external applications or devices for using wireless earphones.
Know more: All You Need to Know About Buying the Samsung Galaxy A7 on EMI
The style and control method is far more important than you might think. Manufacturers opt for style than functionality and it all depends on one's needs.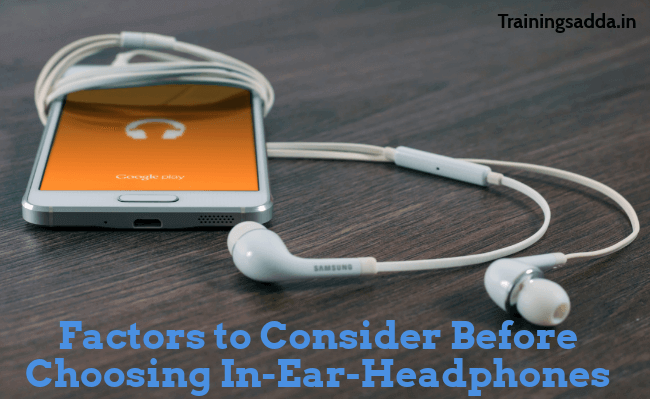 More importantly thing that is to be considered is how earphones can be pair with external devices simply some people use Bluetooth to pair up earphones with their devices or an external devices others may use NFC functionality.
Battery Life
If you are looking for a wired earphones then you can skip this but if you are looking for a wireless earphones then you must need to consider the battery life of the earphones. Some of the companies claims to have a good battery but it won't last you a day.
If you are spending a good budget on some earphones. It's must that it should last you a day. If it's not enough for your workout session then it's worthless.
Budget
Most important factor is the price of earphones there are earphones that worth $400 but one cannot afford it because there budget can't allow them so there are different specification in low price earphones too if an earphones are manufactured through OPTX Technology and they are comfortable with your ear and sound and bass quality is also good then why go for $400 if it you can find it with $40 only. Although quality and battery life and wires quality that all matters but if someone budget is 40$ and he can get all these functionalities in $40 one why go for too much expensive.
Know more: New iPhone Hacking Apps
Bottom Line
We have talked about many things in this article but at a last it comes to your personal preference. If you have enough budget then you can avail each of this feature but if you are low on a budget then you have to sacrifice some of the feature to get another.
In low budget earphones, there is always some features excellent while others are poor. So the real question is what do you need? Is it luxury design or audio quality? When you get the answer to this question, it will be very easy to decide which headphones you need.
Know more: Customized Portable Chargers
Comments
0 comments