Social Media has grown more and become a crucial element in the digital communications strategies, in fact, there are about 3.48 billion social media users this year across the globe according to we are social.
Now, marketers are maximizing the use of communication with the use of social media, and an independent, human-like, and intelligent chatbot development platform. A huge number of businesses are now relying on creating a chatbot for their Facebook pages to help them improve communication and increase user engagement.
Read more: AI Chatbots To Boost Your Customer Service
Did you know that eCommerce benefits most from chatbots compared to the other industries, standing at 90%? This is according to MobileMonkey.
To help you get started or improve your social media marketing campaign, here are 10 chatbots marketing strategies to increase engagement on social media:
Best 10 Chatbots Marketing Strategies
1. Utilize a chatbot to gather demographic information of your followers
You can build a chatbot to gather demographic information such as age, gender, location, preference, and more. These metrics are essential to know what products or services are popular within a specific demographic. You can use this information to discover what your consumers are looking for, what they need, and want the most.
A chatbot is efficient and effective in gathering data through the use of web forms because sometimes, the built-in demographic gathering feature of social media platforms can be out of date.
2. Deliver or push your content via your chatbot
Pushing your valuable content via your chatbot is a powerful social media marketing strategy that is worth focusing on because it is an excellent way to distribute and provide content that is based on what matters to them most. You can tie this ability to have your followers make purchases without leaving the Messenger app through your chatbot.
Read more: 7 Tips For Using Visual Content Marketing
3. Send a chat blast to your followers
Chat blasting is also like an email blasting, but instead, you build them in your chatbot. An important key in this strategy is to have opt-in permission to blast and the best way to do this let your followers know that they are listed in a context-appropriate autoresponder.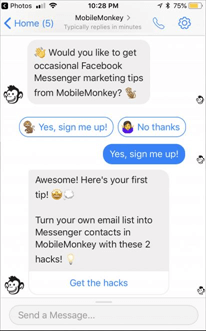 4. Increase engagement through customer support
Create a chatbot to improve your services by not letting your customers wait for responses and avoiding delays. They can even get a response even beyond your office hours and with a chatbot, you can also provide options to reach out to your support across different channels.
5. Streamline your marketing funnels
Chatbots have the ability to streamline your marketing funnels by using it at the different stages of your marketing strategy executions — from marketing research to acquisition. You can also use a chatbot to help you conduct a marketing survey and research by leading your customers through a questionnaire in a personalized way and human-like manner.
Read more: B2B Content Marketing Trends and Statistics in 2019
6. Improve your customer service experience
There are multiple ways a chatbot can help improve your customer service experience by answering your customers' questions and inquiries 24/7, guide them to learn more about your products, and help them navigate to your website. A good customer service chatbot helps in keeping your customers happy by making time-consuming tasks easier eventually leads to an increase in engagement.
7. Provide a seamless cross-platform experience
People most of the time engage with your brand through different social media platforms because it is so prevalent nowadays. Hopping from app to app isn't fun nor convenient, but using a chatbot that works in a single app to get all things done provides a seamless experience.
8. Have an automated customer service
A study conducted by Chatbots Life says 71% of millennials expect to interact with chatbots from their preferred brands. Now, you won't need to have a team of people or a department to provide customer service to your customers and provide answers to questions and concerns, this can help you lessen staffing cost.
9. Help you grow your contact list
According to Inc. Facebook Messenger's open rate is at 80% and with those messages also come with responses, then an increase in your contact list. Setting up MobileMonkey's Facebook post autoresponder gives you the capability to send messages to everyone who would comment on your posts. That kind of engagement is also how you increase your leads.
Read more: Latest Social Media Tips For Small Business
10. Conduct sales pre-qualification
A chatbot can help you gather information whether your customers who have expressed interest in your brand, products or services meet the general buying criteria — simply put, are your leads likely to buy from you? This is one of the most essential steps in lead generation and increasing engagement because it helps you focus on prospects who would help you increase your conversion rate.
If you think that getting started with chatbots can be a difficult task because it would need coding, it's not. You won't even need a developer because you don't have to code anything. You can just create a chatbot lead funnels using a drag and drop visual chatbot builder. Here's a useful guide on how to build a chatbot for your Facebook Messenger in just five minutes.
Comments
0 comments