Career Guidance
Education
Top 5 Countries To Lead International Students Recruitment By 2021
Qualifications and Procedure To Study Abroad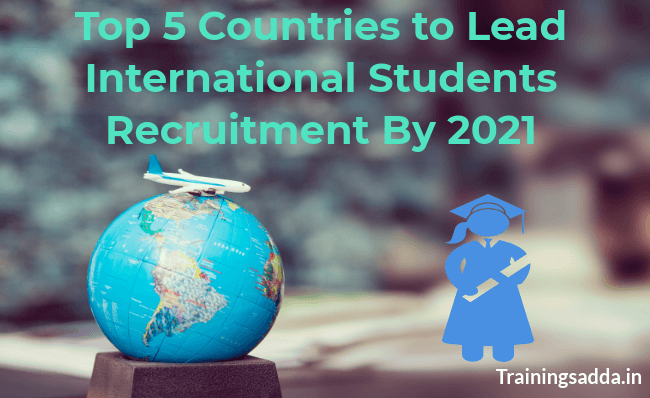 As international countries are tightening immigration, work permit and visa rules, then you must remain updated with all kind of information related to study abroad and post-study work opportunities in abroad countries. It's a really serious matter for international students after the US Government made changes in its visa and immigration rules. Moreover, 457 visa category scrapping by the Australian Government has made the situation worst.
Undoubtedly, foreign countries stringent their visa rules but it is also truth that they are supporting and welcoming the quality international students like anything! More and more international students can apply to study abroad now-a-days and get work opportunities in abroad. Here is the list of top 5 countries which will lead international students recruitment by 2021.
Top 5 Countries Which Will Lead International Students Recruitment:
1. Canada:
There is no significant change in visa or immigration policies for international students in Canada. According to the post-study work permit of Canada, students can stay in Canada for 3 years. This PGWPP (Post Study Work Permit Program) gives permission to international students to do job in Canada after the completion of their studies. Additionally, with total experience gained through this program, students become qualified or eligible for the permanent residency under Express Entry rule.
Read more: What Are The Best Online MBA Programs In Canada?
To work in Canada after studies, you must fulfill the following conditions:
(i) Student must have completed a study course:
(a) At any DLI (Designated Learning Institute).
(b) Duration of course must be minimum 8 months.
(c) It must be a degree, certificate or diploma course.
(ii) Student must have studied full time in Canada in study abroad program.
(iii) Student must be graduated from a well-recognized Canadian College or university.
2. Australia:
In 2017, the scrapping of the 457 visa category was announced by the Prime Minister of Australia- Malcolm Turnbull. But this category is only applicable to the skilled workers applying for residency from outside Australia and not having required Australian qualification.
According to the Temporary Graduate Visa (subclass 485), international students are allowed to work in Australia even after the completion of studies. This type of visa has two streams:
Graduate Work stream: Skilled students with required qualification can live in Australia for 18 months.
Post Study Work stream: If you have completed advanced qualifications then you are allowed to stay in Australia for up to 4 years according to your field of study.
Always remember that few job categories are scrapped from the list so choose your field of study very carefully. Take guidance from your education consultants to choose the right academic course. As rules for international students are getting tight so you must be very careful with your decisions.
Read more: Things To Know Before Take IELTS Test
3. USA (United States of America):
Although, the US is the most popular destination for studying abroad yet certain factors like crimes and new policies of Donald Trump have changed the mindset of International students. But US has gained a good reputation as the most preferred study abroad destination for education and innovation. According to the new immigration policies, students from different parts of the globe can live in the US for 12 months after the completion of their degree.
Options to stay in the US are very limited, so only skilled students will find a job in an American company while others have to go back to their home countries after the completion of their studies. Moreover, there is an another option known as Optional Practical training (OPT) which allows 12-month working period to the international students on F-1 visa after completion of academic course.  These OPT chances can lead to green card.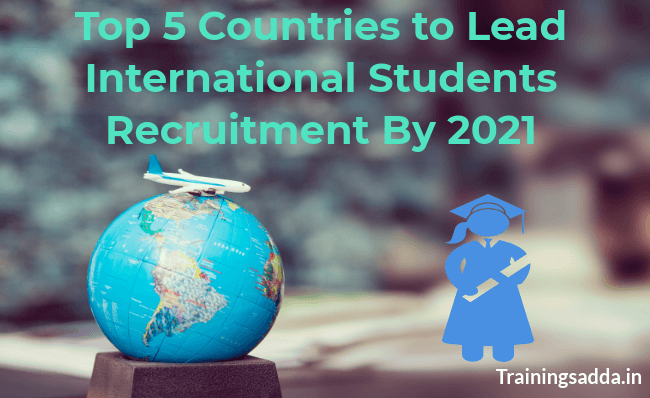 4. UK (United Kingdom):
Don't believe in any myth that international students can't work in the UK. Undoubtedly, their rules are more stringent now, but post-study work opportunities are still available for such students. After the US, it is the second most preferred destination ahead of New Zealand, Canada, Australia, Singapore etc. for international students.
Read more: Best 20 MBA Distance Learning Colleges in India
If you want to work in the UK after the completion of your studies then depending on employment type, you need to apply your work visa. For this purpose, provide all the required documents including details of employer sponsorship, proof of language proficiency test, salary and other necessary documents in order to support your application.
5. Germany:
With wonderful post-study work chances for foreign students, Germany is also a preferred destination by international students. After the completion of course, students are allowed to live in country for 18 months. For this, you have to apply for a residence permit of 18-month from the registration office of your local foreign nationals in order to get a relevant job to your studies.
During the time period of these 18 months, you can involve in any type of employment in order to support yourself. After getting relevant job to your studies, you are eligible to apply for the permit of German Residence. With the EU blue card, you are allowed to get employment in countries like France, Sweden, France etc. So, choosing Germany as a study abroad destination is an excellent option.
In order to work in Germany, students should apply residence permit which must be equal to the duration of course. It means, students can apply for this residence permit in the final year of their studies. With this permit, students can explore various job opportunities in Germany. Proficiency in the German language is must to find work in this country.
If you are from non-EU country, then you should apply for residence permit in order to find relevant work to your studies. For this residence permit, you'll require your passport and other necessary documents. Students are advised to start looking for a job during their final semester. After receiving EU blue card, student can apply for 'settlement permit' after the two years in order to become a permanent resident.
Majority of International countries have English as the first language. As China, Brazil, Vietnam, South Korea and Indonesia countries are also among the top preferred destinations to offer international student recruitment. But these are the 5 top countries which international students prefer while making their decision to study abroad.
Author's Bio: 
Vaishali Joshi is the owner at V Future Step– A Leading Study Abroad Recommendation Platform. She has got more than 5 years of experience in overseas industry. Her expertise and love for the management and study abroad industry inspired her to start with such a platform where they solve the problems of students and study abroad consultants to provide best solutions. Follow her on Facebook and LinkedIn.
Comments
0 comments